3 for 3, Santorum Seizes the Spotlight
By Sandy Johnson, February 8, 2012 08:28 AM
Now it's Rick Santorum's turn. Santorum may have been robbed of momentum coming out of Iowa, where his victory was declared after the fact, but last night he may have gotten it all back as he swept Missouri, Colorado and Minnesota.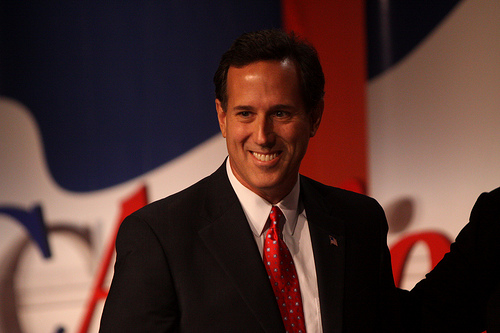 Missouri was a nonbinding "beauty contest," meaning no delegates were at stake. Those will be chosen at GOP party caucuses in mid-March. But it doesn't tarnish the bragging rights of going three for three against the Mitt Romney juggernaut, especially because Romney won Colorado and Minnesota by lopsided margins in 2008. The tables were turned Tuesday, with Santorum racking up impressive totals of 55 percent in Missouri, 45 percent in Minnesota and 40 percent in Colorado.

There were no exit polls, but a careful read of pre-election surveys by Public Policy Polling suggests the inclinations of older voters in the three states:

Minnesota. Remember that Minnesota is home to two unsuccessful GOP candidates: Tim Pawlenty, who endorsed Romney, and Michele Bachmann, who this week called herself the "perfect candidate." So much for them. While the pre-election polling showed Romney as the top choice of older-than-65 voters, Santorum fared better among 46- to 65-year-olds. The oldest Minnesota voters identified themselves as evangelical and conservative but not supporters of the Tea Party movement.

Missouri. Talk about a missed opportunity. Newt Gingrich was ahead in the pre-election polling but didn't even qualify for the ballot. That cleared the field for Santorum. He trounced Romney among older-than-65 voters and had a healthy margin in the 46-65 bracket.

Colorado. Pre-election polling suggested a convincing Romney win. 'Nuff said. Among the older-than-65 voters, eight in 10 said they were conservative and half called themselves evangelicals, but only a third identified themselves as Tea Party supporters.

In a primary season with more complexities than Medicare Part D, Tuesday's results serve notice that the GOP presidential nominating contest will trudge into March.

Read all Election 2012 posts here.