The Takeaway: 1 in 7 U.S. Alzheimer's Patients Lives Alone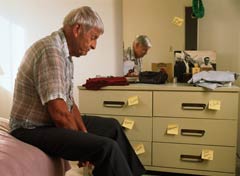 An Alzheimer's diagnosis isn't enough to keep some older adults from staying in their homes- even if they live alone. According to a new study from the Alzheimer's Association, one in seven Americans with Alzheimer's-some 800,000 people- live alone. For some, there's simply no where else to go, or no one else to turn to. For others-like Elaine Vlieger, in the early stages of disease-living alone is a choice.

I'm still pretty healthy," says Vlieger, 79, who sought a neurology exam after realizing she was struggling to find words. "I'm just real careful."

But Vlieger's family worries that she won't be able to determine when she needs more help, and they won't be able to determine when to step in.

"We don't want to have to force it before it's time. But how do we know?" Marla Vlieger, Elaine Vlieger's daughter-in-law, asked.

Beth Kallmyer, a social worker and head of constituent services for the Alzheimer's Association, said mild cognitive impairment, or the early stages of Alzheimer's and dementia, doesn't necessarily preclude older adults from staying in their homes. But its important for a family member or other caregiver to be vigilant for signs of trouble-and recognizing these signs can be difficult.

The trickiest part is when to overrule someone with Alzheimer's and start making decisions for them, Kallmyer said. "Alzheimer's is not a linear process. Somebody has a bad day and the next several days will be good."

Unfortunately, many solo-dwelling dementia patients don't even have anyone to make this call. According to the report, half say they don't have anyone who checks in on them regularly.

Monday Quick Hits:

Health care costs top workers' retirement fears-though many vastly underestimate how much these costs will actually be, according to a new survey from Nationwide Financial Distributors and Harris Poll. "Americans - even those who have diligently saved for their golden years - are not prepared for the reality of health care costs in retirement and don't really understand how Medicare works," said Nationwide president John Carter.
In Garry Marshalls' new autobiography, My Happy Days in Hollywood, the 77-year-old director and producer writes about the carefree set of Happy Days-quite opposite from his experience working with his sister on Laverne & Shirley.
Photo: John Livzey/Getty Images