International Survey of Doctors Finds Alzheimer's Often Misdiagnosed, Stigma Highest in U.K., France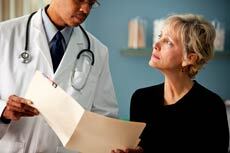 Last week, the Alzheimer's Foundation of America released a study saying many caregivers initially mistake Alzheimer's symptoms for "normal aging." But surely doctors fare better at diagnosing the disease, right? Maybe not. In a survey of nearly 1,000 physicians from five countries, nearly half said that Alzheimer's often gets misdiagnosed. And when proper diagnosis does occur, it's usually too late to intervene in a meaningful way.

The survey - conducted by drug company Eli Lilly and research firm Adelphi Research - included doctors from France, Italy, Japan, the United Kingdom and the United States. A few key findings:

- 45 percent of doctors surveyed said Alzheimer's is "often" misdiagnosed
- 48 percent said the diagnosis "always" or "often" occurs too late
- 44 percent said patients or caregivers only sought diagnosis after they suspected Alzheimer's had been present "for a while"
According to respondents, the biggest barriers to correct and timely diagnosis are the lack of a definitive test for Alzheimer's, a lack of communication between patients (or caregivers) and physicians, and patient denial. Forty percent of the docs surveyed said patients and caregivers didn't provide enough information - things such as types and duration of symptoms, rate of decline and family history - to allow for a formal diagnosis.

"It is often understandably difficult to communicate important information to physicians," said Eric Siemers, senior medical director of Lilly's Alzheimer's team, in a press release. "We hope this survey is helpful to patients and caregivers as it highlights ways to partner more closely with their physicians."

Despite the fact that there is no cure for Alzheimer's, the doctors surveyed agreed that there are several advantages to earlier diagnosis. The earlier treatment is begun, the more chance to slow the disease's progression and the cognitive impairment that comes with it. Early diagnosis also gives patients and their families more time to prepare for the future.

Interestingly, doctors from the U.S. and U.K. were the most likely to consider having more time to prepare as a potential benefit of early treatment. There were also international differences in perception of the disease, with respondents from France and the U.K. reporting the most stigma. And 86 percent of doctors in the UK - more than in any other country - said there is a need for more public education about Alzheimer's.

Thursday Quick Hits:

- Are you a "gamma" investor? Investment research company Morningstar Inc. says efficient financial planning can boost a retiree's annual income by 2 percent. The group is calling this extra income via better planning "gamma," in contrast to risky or speculative "alpha" investing.
- L.A. may up retirement age by 10 years. The Los Angeles city administrator wants to raise the retirement age for new city employees from 55 to 65 years old.
- Oft-overlooked retirement expenses. When making a financial plan for retirement, don't forget to account for things like inflation and lifestyle changes, warns finance expert David Ning.
- A thousand flavors of retirement. Huffington Post writer Ron Cappello explores how the boomer generation's "attraction to fads and cultural identity spurs a market for specialized retirement housing."
Photo: Sean Locke/Getty Images