The Takeaway: Boomers Embrace Outdoor Activities, Team Sports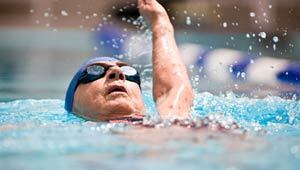 Not-So-Little League: Boomers are embracing team sports and other fitness activities much more than aging Americans of previous generations did. They're not just walking, running and joining gyms, but playing basketball and signing up for adult hockey leagues. They're doing the same activities they enjoyed in their youth, or that are enjoyed by their own young kids.

"Are the boomers playing more sports than 20 years ago? I think the answer to that is yes," said Tom Cove, president of Sports Goods Manufacturers Association. It annually surveys Americans about their exercise activities. "The boomers are dramatically more active and the numbers are much more skewed to fitness and outdoor activities."

Bill Beckner, research manager for Virginia-based National Recreation and Parks Association, said he sees a market for a new wave of senior activity centers.

"I keep waiting to see the first senior skate park. I won't be surprised when it shows up."

And because community fields or ballparks usually prioritize kids' sports, there's also room for new outdoor spaces for adults to play organized sports, says Beckner.
In urban areas, 20-somethings have been flocking to coed kickball leagues and other grown-up versions of childhood games in recent years. Why shouldn't boomers do the same? Adult team sports provide exercise along with a way to socialize, make friends and have fun. Lee Clemmons, 58, has been playing in an over-50 softball league for eight years and said the friendships are "the most important thing. It's more about camaraderie, teamwork."
Need some athletic inspiration? Check out some of AARP's profiles of older athletes and fitness enthusiasts, from discus throwers to triathletes; roller skaters to swimmers to dragon boat racers. Or see my post from earlier this week about the Timeless Torches, a co-ed team of halftime show dancers with an average age of about 60.
Friday Quick Hits:

Photo: Juanmonino/Getty Images