Geoffrey Holder: Much More than a 7Up Pitchman
By Patrick Kiger, October 7, 2014 04:10 PM
TV commercials for 7Up made a powerful impression on us in the 1970s and '80s in large part because of the pitchman: A handsome gentleman clad in an elegant white suit and hat, who spoke in stentorian tones infused with a Caribbean lilt. Lounging in a straw chair, Geoffrey Holder touted the no-caffeine virtues of the "Uncola" as he poured and sipped a glass of the bubbly beverage, and at the end, drove home his point by leaning back his head and laughing with an earthy, authentic robustness. He made the soft drink seem not just cooly refreshing, but cool.

>> Famous People We've Lost in 2014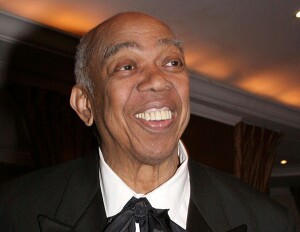 Those commercials, oddly, were the best-known work of the 6-foot-6 Renaissance man who excelled at numerous other, more lofty artistic endeavors. Holder, who passed away Oct. 5 at age 84 in New York City, was a dancer, a choreographer, a Tony Award-winning director and costume designer and actor you might remember as the Voodoo spell-casting henchman in the 1973 James Bond thriller Live and Let Die. If that wasn't enough, he also was a talented painter and published a cookbook.

Here are some facts about Holder's life and career:

Holder was born in 1930 in Port of Spain, Trinidad and Tobago.
His older brother recruited Holder, age 7, for his dance troupe and the younger Holder eventually took over leadership.
As a child, Holder struggled in school due to dyslexia and a speech impediment. Here he explains how he overcame his stammer as an adult.

Famed choreographer Agnes de Mille saw Holder and his troupe perform in the Caribbean and invited them to perform in New York City in 1954. Holder sold 20 pieces of his artwork to finance the trip, stayed and made his Broadway debut that December as the featured dancer in House of Flowers.
In 1956 Holder received a prestigious Guggenheim fellowship in recognition of his painting.
In 1975, he won his Tony Awards for directing and designing costumes for The Wiz.
His other film appearances included Dr. Doolittle (1967) to Charlie and the Chocolate Factory (2005).
He was the voice of Ray in the popular children's TV series Bear in the Big Blue House.


>> Get discounts on health services with your AARP Member Advantages.

Here's one of his 7UP commercials.


Here he is in Live and Let Die.


Photo: Tina Fineberg/AP Photo













Also of Interest



See the AARP home page for deals, savings tips, trivia and more