The Takeaway: Older Stars Rock the Grammy Awards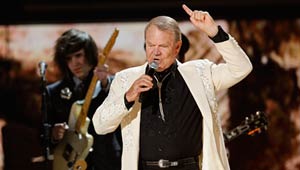 Twenty-three-year-old Adele may have been the night's big winner, but older musicians held their own at Sunday's Grammy Awards. From Glen Campbell to Sir Paul, the Beach Boys and the Boss, music vets rocked the stage and turned in some of the best of the night's many live performances.

See Also: Grammy Awards Trivia Quiz >> 

Five-time Grammy winner Glen Campbell literally brought the celeb-filled crowd to its feet as he performed his best-known song, "Rhinestone Cowboy." The 75-year-old country showman revealed his Alzheimer's diagnosis and released his final album, Ghost On The Canvas, in 2011. But lively and spot on as ever last night, Campbell showed no signs of trouble (as the crowd cheered and the lights went down, he even joked "Where do I go?"). He was honored with a Lifetime Achievement Award Grammy this year.

Three members of the original Beach Boys-Brian Wilson, Mike Love and Al Jardine-reunited on the Grammy stage last night to perform "Good Vibrations," alongside pop groups Maroon 5 and Foster the People. It's the first time Wilson, Love and Jardine have played together in more than 20 years. They'll be joined by Bruce Johnston and early member David Marks this spring for a new album and a reunion tour.

Bruce Springsteen, 62, and the E Street Band opened the show with a politically charged new single, "We Take Care of Our Own," which-like Campbell's performance-had the audience on their feet. Paul McCartney later played a low-key version of "My Valentine," from his new standards album.

At the pre-telecast awards, Betty White beat out Tina Fey and Val Kilmer for Best Spoken Word album, for her book If You Ask Me (And Of Course You Won't). Tony Bennett also received a pre-show Grammy- best pop performance by a duo or group-for his duet with Amy Winehouse. Bennett invited the late singer's parents to join him on stage when he accepted the award.

Speaking of late singers ... Whitney Houston's death loomed over the Grammy ceremony, with her memory invoked often by presenters and performers. Jennifer Hudson gave a tribute performance of Houston's "I Will Always Love You." Grammy host LL Cool J-who opened the awards with a prayer in honor of Houston-said Hudson's cover "sends chills through your spine. She is obviously a different singer, different diva, but she's the closest thing we have now to Whitney."

Monday Quick Hits:

And a Bronx nursing home is collaborating with Carnegie Hall musicians. The patients, ages 57 to 98, work with the Carnegie pros to create and eventually perform original pieces. The performance "reminds us that living in an institution does not define who we are," said Concetta M. Tomaino, executive director of the facility. "It shows that life can and continues to be a very rich experience."
Photo: Mario Anzuoni/Reuters