The Takeaway: Grandparents Paying For Family Travel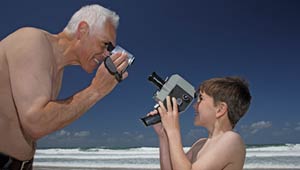 Picking Up The Tab For Family Visits: Travel professionals report an uptick in grandparents flying far-away grandkids in for a visit or paying for the whole family to vacation together. Ginger Mittelstaedt, owner of Wisconsin-based Free Spirit Travel agency, told USA Today she's been booking a growing number of multi-generational cruises or resort excursions since the beginning of the economic downturn.

The grandparents are taking the whole family," she says.

One such grandparent: David Campbell, who said he's often paid for his two daughters and granddaughter to travel from New York to visit him and his wife in Virginia. Last year, he took all of them to Florida to see his 94-year-old grandmother.

It's getting to a point I'd like them to enjoy life," says Campbell. "And if they're going to enjoy it, they might as well enjoy it with me."
Looking for a trip the whole family could take without it costing a fortune? Check out AARP travel expert
Peter Greenberg's
guide, "
Big Cities, Small Prices
," for affordable urban getaways.
If you have children and grandchildren, who pays when you travel together?
Monday Quick Hits:
Photo: Peter Cade/Getty Images