Say Happy Birthday to Two 'Nonagenarian' Chimps
By Bill Hogan, June 28, 2013 05:00 PM
As a kid growing up in Indianapolis, nothing excited me more than the thought of piling into the family station wagon for a trip to the big city: Chicago. Our favorite destination in the Windy City, hands down, was the Lincoln Park Zoo. There I would gaze in absolute wonderment at Bushman, the world-famous, fierce-visaged gorilla, who stood 6 foot 2 and weighed in at 550 pounds.

Before his sudden death in 1951 at the tender age of 22, Bushman was regarded as the world's most prized zoo animal. By the time I saw him he stood utterly motionless - taxidermy had preserved him - but was plenty scary nonetheless.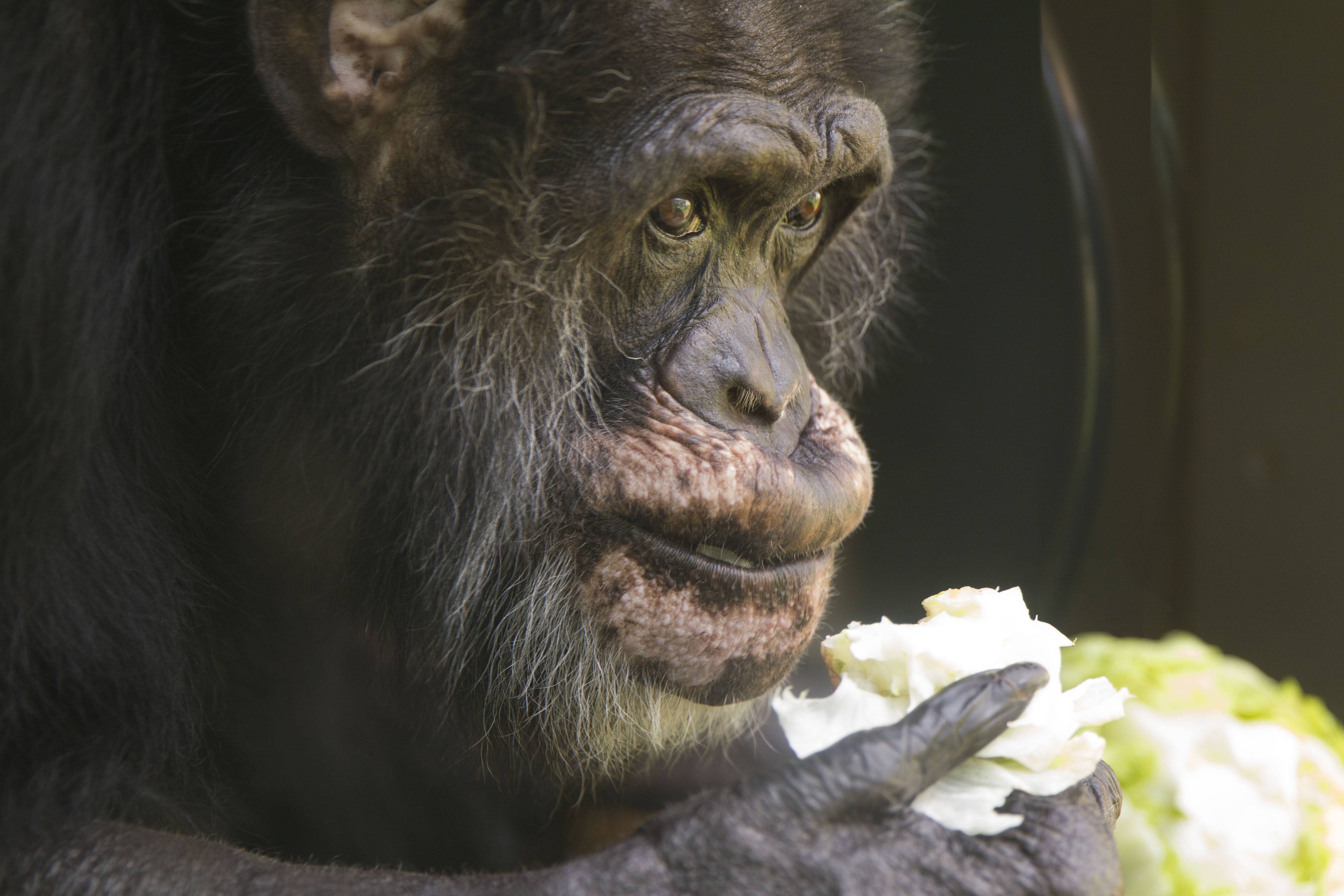 Yesterday all my Bushman memories came flowing back as I read of two elderly chimpanzees at the Lincoln Park Zoo celebrating their birthdays with a pair of 750-pound ice-sculpture cakes packed with such goodies as carrots, kale, grapes and strawberries. At 55, Keo (in the photo to the right) is the oldest male chimp in an accredited zoo, and Vicky is 50. They've both lived well beyond the median life expectancies for chimpanzees (31.7 years for males and 38.7 years for females, according to the Lincoln Park Zoo) and in "human years" are in their 90s.

Keo and Vicky, to be sure, get a lot better care than Bushman ever did, pretty much for the same reasons we get better care than our parents did in the 1940s and 1950s. An autopsy established acute congestive heart failure as the immediate cause of Bushman's death, but he also suffered from arthritic-like symptoms; degeneration of the spinal cord, liver and spleen; atrophy of the leg muscles; a chronic ulcer on his left heel; stomach hemorrhages; hardening of the brain arteries; and swelling of the kidneys.

Keo and Vicky get nutrition-packed diets, regular checkups and consultations from cardiologists who otherwise care for humans. (Implanted EKG devices also help the zoo's veterinary experts monitor the chimps' heart health.)

So please join me in wishing Keo and Vicky a happy birthday. (Their exact dates of birth, incidentally, are unknown.) And a great way to do that, suggests Kevin Bell, the president and CEO of Lincoln Park Zoo, is to express your support for the U.S. Fish and Wildlife Service's proposal to extend endangered status to all chimpanzees in the United States.








Photo: Lincoln Park Zoo



Also of Interest

Join AARP: Savings, resources and news for your well-being


See the AARP home page for deals, savings tips, trivia and more