Older Americans Face Increasing Risk of Hunger
By Steve Mencher , May 22, 2014 05:24 PM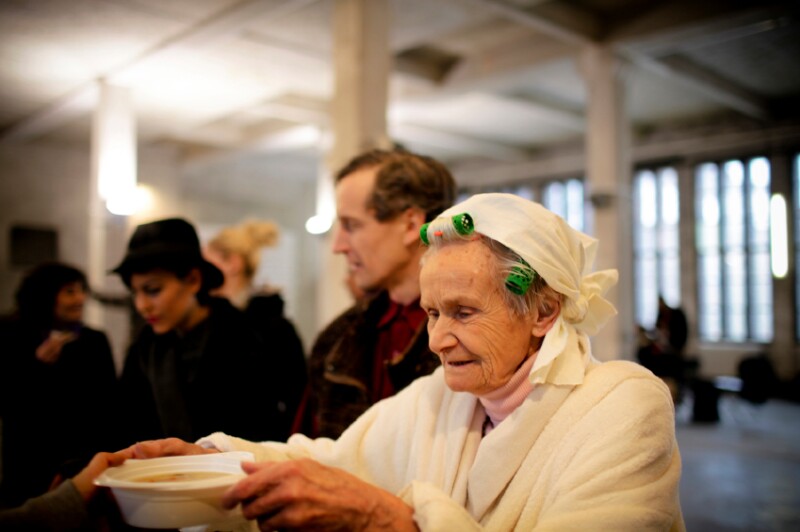 More than 15 percent of Americans over age 60 - some 9.3 million men and women - experienced the threat of hunger in 2012, according to a report just released by the National Foundation to End Senior Hunger. From the start of the recession in 2007 to 2012, the number of older people threatened by hunger has jumped 49 percent.
The report, based on statistics from the 2012 Current Population Survey conducted by the U.S. Census Bureau, says the following groups of older Americans are at particular risk:

Those living in the South and Southwest.
Those who are racial or ethnic minorities.
Those with lower incomes.
Those who are ages 60-69.

Why are younger seniors especially vulnerable? Those under 65 are not yet eligible for Medicare, for one thing. James Ziliak, director of the University of Kentucky's Center for Poverty Research and a coauthor of the report, told the Washington Post: "Some of the folks may face [a] trade-off between paying for prescription drugs versus feeding themselves."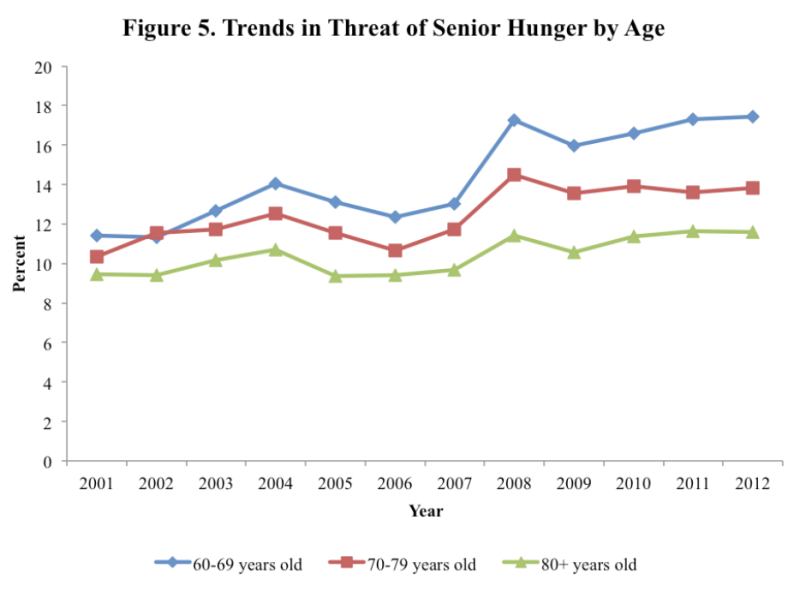 Other factors also come into play, according to the report:

"The threat of hunger among divorced or separated seniors is two to three times greater than married seniors. ... Likewise, the threat of hunger is three to four times higher among the disabled in comparison to the retired or employed, and if a grandchild is present, food insecurity is more than twice as likely than among households with no grandchildren present."

>> Get discounts on health services with your AARP Member Advantages.
Although racial minorities and those living below the poverty line have a greater risk of not having enough to eat, most of those threatened by hunger are white and above the poverty line, because they're represented in the population by greater numbers. State-to-state variations are stunning: In Minnesota, 8.1 percent of those 60-plus are at risk versus 25.4 percent in the most affected state, Arkansas.
The AARP Foundation has long focused on senior hunger, and its president, Lisa Marsh Ryerson, sees the new statistics as a call to action: "While this report in one sense can be disheartening, unfortunately we are not surprised. The upward trend of older adult food insecurity and hunger cannot be stemmed by business as usual. We must invest in the elimination of the root causes of hunger. This will require a proactive and bold vision to reframe the conversation, establish new partnerships and challenge the often reactive nature of anti-hunger efforts."
Photo: helencanada/iStockphoto; Chart: National Foundation to End Senior Hunger Report, May 21, 2014 - Authors: James P. Ziliak, University of Kentucky, Craig Gundersen, University of Illinois
Also of Interest
Join AARP: Savings, resources and news for your well-being
See the AARP home page for deals, savings tips, trivia and more