The Takeaway: Britain's Oldest Married Couple to Tweet Valentine's Day Relationship Advice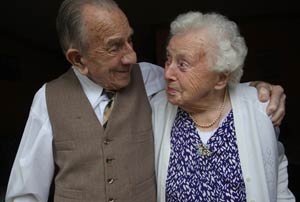 'Til Death Do Us Tweet: After 76 years of marriage and 82 as a couple, Lionel and Ellen Buxton know a thing or two about making relationships work. Now the pair-" Britain's oldest married couple," according to The Daily Mail-have joined Twitter, where they're inviting younger users to tweet them with their love problems.

A wedding video company, Shoot It Yourself, set up @lionelandellen, the Buxton's newly minted Twitter account.

Lionel, 99, and Ellen, 100, met in 1930, when both worked at the Henley Cable factory in London's East End. In honor of Valentine's Day, the Buxtons-who already have 1,155 Twitter followers-will beginning replying to romantic queries this afternoon.

For 7 secrets to a happier marriage, tips on Internet dating after 50 and more, check out AARP's love & sex section.

Tuesday Quick Hits:

Photo: @lionelandellen