Poll: If Court Rules Against Obamacare Subsidies, Most Want Them Restored
By Julie Rovner, Kaiser Health News, January 28, 2015 10:25 AM
A new poll finds that most people think Congress or states should act to restore health insurance subsidies if the Supreme Court decides later this year they are not permitted in states where the federal government is running the marketplace.

The court in March is set to hear King v. Burwell, a lawsuit arguing that the wording of the Affordable Care Act means that financial assistance with premiums is available in only the 13 states that created and are running their own online insurance exchanges. If the court sides with those challenging the law, millions of people in the 37 states that use the federal Healthcare.gov site would lose the help they have been getting. A decision in the case is expected in late June.

>> Get your questions about the health law answered here

Less than half the respondents in the monthly tracking poll by the Kaiser Family Foundation said they had heard about the case. (Kaiser Health News is an editorially independent project of the foundation.) But if the court were to invalidate subsidies in the federally run states, 64 percent said Congress should restore them, and 59 percent said states should create their own exchanges.

Democrats and Independents are most strongly in favor of ensuring that subsidies are available in every state if the court rules otherwise. But 40 percent of Republicans said Congress should act to address the issue, and 51 percent of Republicans said states should act if the Supreme Court makes subsidies unavailable in states using Healthcare.gov.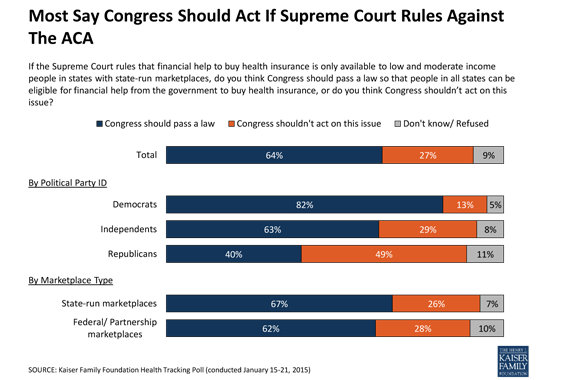 In fact, it may not be that easy. Republicans in Congress say they are preparing their own health-law alternative in the event the court invalidates the subsidies, while in several states, legislative action would be needed. Most legislative sessions conclude by late June.

The poll also found that many of those at risk of losing their financial aid aren't aware of it. Only a third of those in federally run states know their exchange is run by the federal government, while 39 percent incorrectly thought their state runs its own exchange. Another 28 percent said they didn't know. Meanwhile, the U.S. Department of Health and Human Services reported Tuesday that just over 7 million people are signed up for coverage through the federal marketplace, with less than a month to go in the current open enrollment season. An estimated 87 percent of those people are eligible for subsidies, with coverage at risk depending on how the court rules.

>> Get discounts on health services with your AARP Member Advantages.

Overall, awareness of the law and its requirements continues to lag. Only 17 percent of those without insurance were able to correctly identify Feb. 15 as the last day to sign up for coverage for 2015, and only 42 percent are aware that financial help is available to pay premiums.

Kaiser polled a nationally representative sample of adults by phone between Jan. 15 and 21. The poll has a margin of error of plus or minus three percentage points for the full sample.

Kaiser Health News (KHN) is a nonprofit national health-policy news service.






Also of Interest:

See the AARP home page for deals, savings tips, trivia and more.