Some Heartburn Drugs Could Up Heart Attack Risk
By Candy Sagon , June 12, 2015 06:00 AM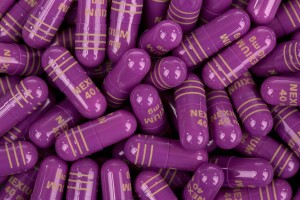 Could some heartburn drugs be risky for your heart?
A new Stanford University study, which used data mining to look at health information from nearly 3 million patients, found that the hugely popular proton pump inhibitors (PPIs) — including Prilosec, Nexium and Prevacid — were associated with a 16 to 21 percent increase in heart attack risk. This higher heart attack frequency could be seen in otherwise healthy PPI users of all ages, including under age 45, researchers reported.
Get the latest tips on staying healthy — AARP Health Newsletter »
"These drugs may not be as safe as we think," Nicholas Leeper, M.D., the study's senior author and an assistant professor of vascular surgery and of cardiovascular medicine, said in a prepared statement. The study was published June 10 in the journal PLOS One.
Researchers found no link, however, between heart attacks and another well-known type of heartburn drug, H2 blockers, such as Tagamet, Pepcid and Zantac.
The study's findings add to previous research by Stanford scientists suggesting that PPIs may reduce the production of nitric oxide in the cells lining the body's blood vessels, including the heart. Nitric oxide is an important molecule that helps arteries expand to improve blood flow and lower blood pressure. Too little nitric oxide can accelerate heart disease.
PPIs are among the world's most widely prescribed drugs, with more than 100 million prescriptions filled every year in the U.S. Worldwide prescription sales are $14 billion annually, which doesn't include sales of the over-the-counter versions.
The drugs work by blocking the enzyme in the stomach that produces acid. This, in turn, prevents heartburn, a burning sensation in the chest that occurs when stomach acid rises up into the esophagus.
PPIs have long been considered low risk, except for people also taking the blood thinner clopidogrel (Plavix). (Some PPIs can reduce the effectiveness of clopidogrel.) The new findings, however, indicate an increased risk of heart attack among all PPI users, even when excluding those taking clopidogrel.
Get discounts on prescriptions, health exams, eye care and more — AARP Member Advantages »
Researchers cautioned that the study found only a correlation between heart attack risk and PPI usage, not a cause-and-effect mechanism. The increase is also relatively modest — especially for those with a low risk of heart attack, lead author Nigham Shah, a Stanford assistant professor of medicine—biomedical informatics research, told NPR. "If your risk of a cardiovascular event or a heart attack is 1 in a million, now it is 1.2 in a million."
On the other hand, those already at risk for heart problems should talk to their doctors, he added. "And if your baseline risk is high, then maybe you want to take something else."
Photo: DonNichols/iStock
Also of Interest

See the AARP home page for deals, savings tips, trivia and more.