Strawberries Top 'Dirty Dozen' List for Pesticides
By Candy Sagon , April 12, 2016 05:10 PM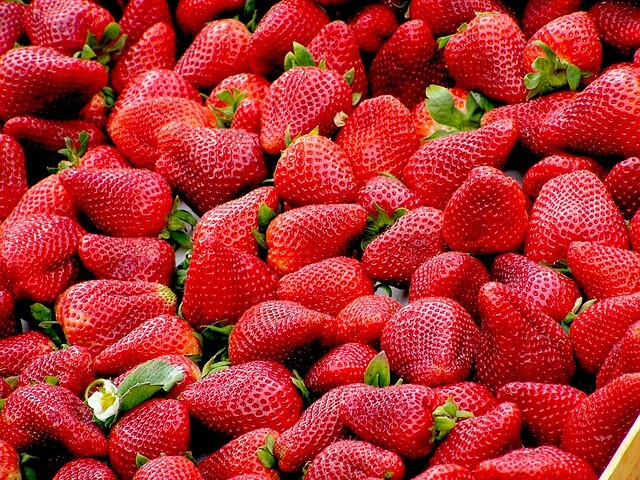 And the winner — or maybe we should say, loser — this year is ... strawberries.
For the first time in five years, the popular berry has ousted apples from the number one spot on the Environmental Working Group's annual report of the produce with the most pesticide residue — aka " The Dirty Dozen." The nonprofit group also included a " Clean 15" list of produce lowest in pesticides.
After strawberries, apples are number two, followed by nectarines, peaches, celery, grapes, cherries, spinach, tomatoes, sweet bell peppers, cherry tomatoes and cucumbers. Leafy greens, including kale and collard greens, and hot peppers also rated a mention for having worrisome insecticide residue levels.
Conventionally grown strawberries had an average of 5.75 different pesticides per sample, compared to 1.74 pesticides per sample of all the other produce the USDA tested, the environmental advocacy group reported. However, only about 7 percent of the strawberries sampled in 2014 had levels of pesticide residues considered illegal.
"Fruits and vegetables are important for your health, but for those on the Dirty Dozen, we recommend buying the organic versions if you want to avoid pesticides on your food," Sonya Lunder, EWG senior analyst, said in a statement.
Avocados topped the Clean 15 list, with only 1 percent of samples showing any detectable pesticides. Also on the list: sweet corn, pineapples, cabbage, frozen sweet peas, onions, asparagus, mangoes, papayas, kiwis, eggplant, honeydew melon, grapefruit, cantaloupe and cauliflower.
None of the samples of these fruits tested positive for more than four types of pesticides, and 89 percent of pineapples, 81 percent of papayas, 78 percent of mangoes, 73 percent of kiwi and 62 percent of cantaloupes had no detectable residues.
The EWG's annual report is based on pesticide residue testing by the U.S. Department of Agriculture (USDA). According to EWG, nearly three-fourths of the nearly 7,000 produce samples tested by the USDA in 2014 — the most recent year for which data is available — contained pesticide residues, although the USDA said this year that "overall pesticide chemical residues found on the foods tested are at levels below the tolerances established by the Environmental Protection Agency (EPA) and do not pose a safety concern." The agency noted that residues exceeding EPA tolerances were detected in only 0.36 percent of the samples tested.
"The resulting data in this year's report gives consumers confidence that the products they buy for their families are safe and wholesome," said Ruihong Guo, deputy administrator of the USDA's science and technology program.
The EWG's Lunder called the EPA's residue levels allowed on produce "too lax to protect Americans' health. They should be updated to reflect new research that shows even very small doses of toxic chemicals can be harmful, particularly for young children."
Photo: Pixabay