Students Turning to Grandparents to Help Pay for College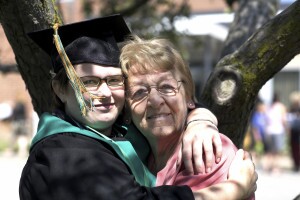 How are families paying for college?
Grandparents.
Or, at least, grandparents and other relatives are kicking in more for a student's education.
The amount of money from relatives — often grandparents — and friends rose to an average of $1,247 this year, a 40 percent increase over last year.
That's according to Sallie Mae's annual report, "How America Pays for College," which is based on a survey of 1,600 parents and students.
Student loan giant Sallie Mae found that families were spending 16 percent more overall for college expenses — from tuition and room and board to computers, transportation and supplies — this year compared with last year.
Despite the increase, families aren't raiding retirement savings as much as in the past to pay for college.
Parents withdrew 41 percent less from retirement accounts to foot the bill this year. On average they withdrew $5,276 this year, down from $8,870 a year ago.
Others took out loans from their 401ks and similar plans, borrowing an average of $3,868, a 24 percent decrease from the year before.
Marie O'Malley, coauthor of the report, says the survey didn't ask why parents were tapping retirement accounts less.
"It could be that savings just haven't accumulated as much as they did in the past," O'Malley says. "But it really looks like they have more income or out-of-pocket money they can spend."
Get discounts on insurance and banking services with your AARP Member Advantages. »
Sixty percent of families didn't have to borrow for college, slightly less than last year. When they did take out loans, students rather than parents ended up borrowing three-quarters of the money.
Parents, though, still pay the bulk of the cost of education — contributing about twice as much as students.
Photo: Chrisboy2004/istock
Also of Interest

See the AARP home page for deals, savings tips, trivia and more.