The Forbes 400 - America's Richest, by Generation
By Patrick Kiger , September 17, 2013 12:53 PM
Forbes magazine has just released its Forbes 400 ranking of the richest people in the United States, and within it, there's an intriguing message: If you want to be really, really, really wealthy, it's going to take a while, and you should plan on working past the typical U.S. retirement age of 61.
Only 38 of the 400 - who had to amass a fortune of at least $1.3 billion to qualify - are under age 50, and the average age of the elite list's members is 66.
Boomers and members of the Silent Generation dominate the Forbes 400 in a big, big way, as this chart shows: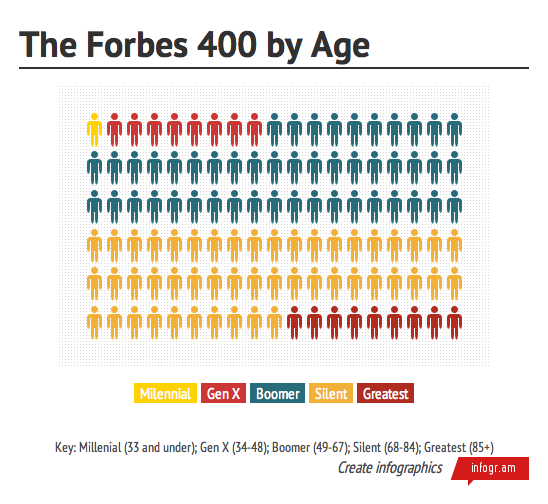 Here's a generation-by-generation breakdown with the actual totals (which don't add up to 400 because ages weren't included for a few people on the list):

Millenial: 3
Gen X: 28
Boomer: 166
Silent: 165
Greatest: 32
Microsoft cofounder Bill Gates, 57, is the richest person on the Forbes 400, with a fortune that the magazine estimates at $72 billion. But Gates is a relative rarity on the list, in that he no longer works full time at running the business that made him rich. (He stepped down as chief executive in 2000 and transitioned to part-time status in 2008, though he still retains the title of chairman.)
More typical is the second-richest American, Warren Buffett, worth $58.5 billion, who is still at the helm of his flagship Berkshire Hathaway at age 83. Forbes notes that not even a recent bout with prostate cancer slowed Buffett down. "A year after completing radiation treatment, he is still doing huge deals," the magazine writes. One example: A $23.2 billion deal in June 2013 to acquire iconic ketchup maker H.J. Heinz. Similarly, No. 3 on the list, Oracle founder Larry Ellison, who is worth $41 billion at age 69, remains chief executive of his company. (Here's a recent interview with CBS This Morning's Charlie Rose, in which Ellison looks astonishingly youthful and vital as he makes some scathing criticisms of Google and Apple.)
Of those who aren't still leading their flagship enterprises, a few have moved on to second-act careers. Most notable in that regard is the No. 10 mogul on the list, Michael Bloomberg, 71, who left global financial giant Bloomberg LP in 2001 to go into politics. Bloomberg went on to be elected mayor of New York in 2001 and to be reelected twice.
Also of Interest

See the AARP home page for deals, savings tips, trivia and more