The Takeaway: Boomers Face Medicare Changes In 2012; Double-Duty Care Stresses Sandwich Generation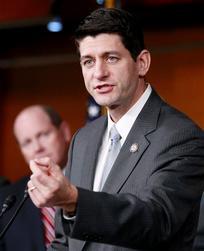 Big Changes Ahead: "Boomers take note," heeds Associated Press writer Ricardo Alonso-Zaldivar. "Medicare as your parents have known it is headed for big changes no matter who wins the White House in 2012." Scratch the surface of all the partisan rhetoric, and Medicare policy prescriptions from leading Democrats and Republicans don't really look so different. And the 1.5 million boomers a year signing up for Medicare will be at the forefront of any policy changes.

People would like to have what they used to have," said Gail Wilensky, a former Medicare administrator and GOP adviser. "What they don't seem to understand is that it's already changed. Medicare as we have known it is not part of our future."

This could mean more Medicare recipients joining private insurance plans, as Rep. Paul Ryan and Sen. Ron Wyden want to see (currently, only about 25 percent of Medicare recipients are in private 'Medicare Advantage' plans, while the other three quarters participate in the traditional, government-run Medicare program). A new voucher-for-private-Medicare plan would be available to anyone currently under 55.
It could also mean keeping the existing Medicare structure but making certain tweaks to control spending. Under President Obama's health care overhaul, the Independent Payment Advisory Board could force Medicare cuts to service providers if costs rise above certain levels and Congress fails to act.
Obama has said he'll veto any plan to cut Medicare benefits without raising taxes on the wealthy. But during failed budget negotiations with Republicans last summer, he indicated a willingness to gradually raise the Medicare eligibility age to 67, revamp co-payments and deductibles in ways that would raise costs for retirees, and cut payments to drugmakers. "For the 76 million baby boomers signing up over the next couple of decades," writes Alonso-Zaldiver, "it will pay to be watching."
Caregivers Stretched (and Stressed): Evelyn Volk, 52, has two teenagers and an 84-year-old mother with dementia at home. Having her mom around used to be helpful, Volk says-mom pitched in on housework and prepared meals for the family. But as her health declined, she stopped cooking and forgot how to do simple things like turn on the shower.

For some, caregiving lasts a finite amount of time. For others like Volk, she has a duty as long as her mother is alive and as long as her kids are at home. "This is my lot in life," she said. "Sometimes I wonder, `How long will this last?'"

Ranks of the so-called 'sandwich generation'-those (mostly boomers) who find themselves in dual roles taking care of children and aging parents-are swelling. About a third of the 66 million Americans supporting an aging loved one are also raising children, according to the National Alliance for Caregiving. With women having children later in life and everyone living longer, the number of Americans pulled into 'double-duty caregiving' is only expected to grow. And the next generation may feel extra stretched, with less siblings to share caregiving burdens since boomers had fewer children than their aging parents.
Monday Quick Hits:

Photo: AP Photo/Manuel Balce Ceneta