The Takeaway: Ivy League Janitor Graduates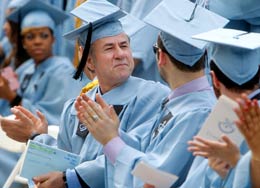 Gac Filipaj, 52, has balanced studies with full-time work as a Columbia University janitor for 12 years. During this time, Filipaj-a refugee from war-torn Yugoslavia-took advantage of the free classes offered to employees to first learn English and then earn a bachelor's degree in classics.

This is a man with great pride, whether he's doing custodial work or academics," said Peter Awn, dean of Columbia's School of General Studies and professor of Islamic studies. "He is immensely humble and grateful, but he's one individual who makes his own future."
Filipaj-whose graduation (with honors) marked a dozen years of studies, including readings in ancient Latin and Greek-told the Associated Press his favorite subject was Roman philosopher and statesman Seneca.
I love Seneca's letters because they're written in the spirit in which I was educated in my family - not to look for fame and fortune, but to have a simple, honest, honorable life," he said.

In 1992, Filipaj, an ethnic Albanian and Roman Catholic, had almost finished law school in Yugoslavia when he had to flee the country to avoid being drafted into Serbian-led Yogoslav army. He came to New York, where he lived with his uncle and worked as a restaurant busboy before taking a job a Columbia.

I asked people, which are the best schools in New York?" he says. Since Columbia topped his list, "I went there to see if I could get a job."

And Filipaj isn't finished yet: He would like to get at least a master's degree-perhaps a Ph.D.-in Roman and Greek classics. He hopes to teach and translate his favorite classic works into Albanian.

Friday Quick Hits:

Brain fog not always Alzheimer's: Other conditions-sleep apnea, vitamin deficiency, medication, depression-may be misdiagnosed as Alzheimer's disease in older adults, USA Today notes. "It's a real problem," said clinical psychologist Peter Lichtenberg. "If you're older and you get a label of Alzheimer's-even a hint that you have Alzheimer's-there's no more critical thinking about it. You're written off by a lot of people."
Photo: Image Source/Corbis