The Takeaway: Just-Released 1940 Census Data Could Reveal Family Histories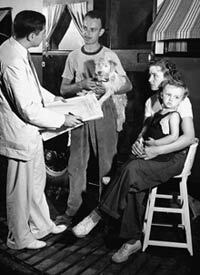 Census Searchers Crash Archives Website: Data from the 1940 U.S. census became available to the public online yesterday-and interest was so great it nearly crashed the National Archives website. Miriam Kleiman, spokeswoman for the Archives, said the site got more than 22 million hits in just four hours on Monday; after eight hours there had been 37 million hits.
USA Today highlights some of the major differences between 1940 and 2010 America. The U.S. population rose from 132.2 million in 1940 to 308.7 million in 2010. The population of California jumped from 6.9 million to 37.2 million during this period; and median home value (adjusted for inflation) leapt from $38,700 in 1940 to $179,900 in 2010.
More than 21 million people still alive today in the US and Puerto Rico were counted in the 1940 census. The federal government just released the census data because the 72-year confidentiality rule expired. According to the Associated Press, it's the largest collection of digital information ever released by the National Archives.
The records could allow many Americans to find details-like employment data and income-about families' pasts. Anyone can access the records (for free) online, but apparently the data isn't yet searchable by name.
"This is the 1940 census, but it describes the country during the Depression," said archivist Connie Potter. Take a closer look at the collection in this video:
Tuesday Quick Hits:

Photo: Hansel Mieth//Time Life Pictures/Getty Images