The Takeaway: Opera-Singer-Turned-Film-Star Marta Eggerth Still Cabarets At 100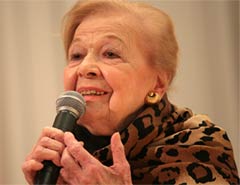 Storyteller and Stage Animal: Hungarian songstress and performer Marta Eggerth got her show-biz start as a child opera prodigy and went on to Broadway and film fame. These days, Eggerth-who will celebrate her 100th birthday April 17-still performs the occasional one-woman show at New York's Cafe Sabarsky, which hosts a series of 'upscale, unconventional cabaret evenings,' according to the Washington Post.

The bookers knew they had a promising idea, since Eggerth is a great storyteller and a stage animal, but they were slightly nervous about booking a 95-year-old woman. Would she, they asked her son Marjan before her first appearance, be able to perform for as long as 45 minutes? ... Forty-five minutes was too short. She gave them an hour and a half.

"People ask me, How is it to be 100?" she told the Post. "I say, I don't know. I have no standard of comparison. You must ask me when I am 200 what it was like to be 100, and then I will be able to tell you."

Eggerth was married to the Polish tenor Jan Kiepura, who died in 1966. The two starred together in a production of the operetta "The Merry Widow," which ran "in Chicago, in Europe, and on Broadway for a few hundred performances" in the 1940s. Here's Eggerth in concert in 1994, at age 82.




Friday Quick Hits:

Photo: Andrew Lepley/Redferns/Getty Images