The Takeaway: Parents Helping Less With Education Costs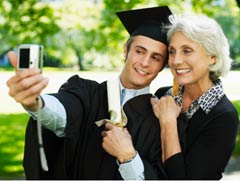 Mark this as one more way in which the Great Recession has affected Americans' financial planning: Parents are contributing less to their children's college costs than they did just a few years ago, according to a recent poll. In addition, more college students are living at home with parents to save money.

The poll, from student-loan lender Sallie Mae, looked at 1,600 American undergraduates and their parents.

On average, the amount spent by families on college -- including parents' and students' contributions --declined 5 percent during the 2011-2012 school year. Parents of undergraduates spent an average of $5,955 on their child's education, down from $6,664 a year earlier and $8,752 during the 2009-2010 school year.

This really reflects the economic conditions that we see today," said Sarah Ducich, senior vice president at Sallie Mae. "We are seeing families make adjustments, saving more money and being more cost-conscious."

Parents also borrowed slightly more during the 2011-12 school year -- an average of $1,832, up from $1,573 in the 2010-11 survey.

Overall, they funded about 37 percent of their kid's college costs, down from 47 percent two years ago. Students themselves covered about 30 percent of costs, with grants and scholarships footing 29 percent and miscellaneous relatives or friends covering about 4 percent of costs.

Quick Hits:

A spirited encore career. After retiring from a career as a trial lawyer, Mark Meyer, 61, opened Wigle Whiskey, a distillery that makes organic, small-batch whiskey and rye.
Boosting women's retirement confidence. While women are fairly confident about many financial goals, they tend to be less certain about planning for a secure retirement and making investment decisions, according to a new study from Prudential.
Happy 70th, Harrison Ford. Celebrate the actor's 70th birthday by looking back with us at some of Ford's greatest movie roles.