The Takeaway: Republican Candidates Talk 'Sacrifices,' Spending Cuts In New Hampshire Debate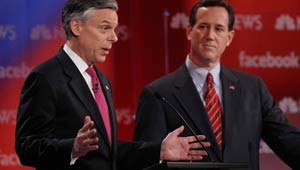 The Republican presidential candidates were all over Social Security, Medicare and other social safety net programs (like LIHEAP and Medicaid) at a televised debate in Concord, New Hampshire, Sunday-the second debate since the Iowa caucuses anointed Rick Santorum part of the Serious Candidates Club and led Michele Bachmann to drop out of the race. Moderator David Gregory asked the candidates:

I wonder what specifically you would do to say to Americans, "These are cuts I'm going to make in federal spending that will cause pain, that will require sacrifice"?

Jon Huntsman said Medicare would no longer be a 'sacred cow,' but neither would the Department of Defense, and advocated 'means testing upper-income' Social Security recipients. Santorum said he, too, would cut Social Security benefits for wealthy retirees, and make 'dependency programs' like food stamps, housing programs and Medicaid the responsibility of the states. Last week, Santorum called for 'immediate' cuts to Social Security benefits, instead of the phased changes which most politicians support. The Associated Press reported:

Politicians typically suggest phase-in periods of up to a decade when broaching the topic of changing Social Security to avoid grievous consequences from angering older voters. Clearly aware of the risks, Santorum argued that everyone must sacrifice now because the nation's "house is on fire" with soaring federal debt. He argued that he is being courageous and honest by telling Americans they can't afford to wait to rein in Social Security's growing costs.

Changes Santorum said he would make 'now' included raising the eligibility age to qualify for Social Security and restricting benefits for upper-income retirees. But at yesterday's debate, Santorum was vague when asked about his timeline. Similarly vague on specific plans, Ron Paul spoke about how entitlement programs were not 'rights,' and Newt Gingrich more-or-less said he could fix Medicare and Medicaid solely by cutting fraud and government waste (a tactic AP 'fact checker' Calvin Woodward called "a classic Washington dodge").

Mitt Romney said he would leave more social safety net programs up to the states, including food stamps, housing vouchers, Medicaid-and 'home heating oil support.' That last one's a topic not often in the spotlight- but very important to many older Americans. Energy assistance programs, like LIHEAP, help low-income households (including many low-income seniors) heat their homes in the winter. Huntsman said instead of cuts to such programs, he would focus on 'greater energy diversity and energy independence.'

Monday Quick Hits:

Photo: Shannon Stapleton/Reuters