The Takeaway: The New Assisted Living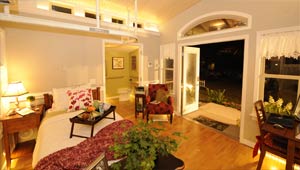 Retirement Resorts: Aging retirees of yore may have moved in with family, headed to a Sun Belt retirement community or took up residence in an assisted living facility. Today's retirees? According to the Wall Street Journal, they're living on cruise ships, in spas, at "fully staffed homes in Costa Rica," shared houses with other retirees or in "backyard bungalows" on adult children's property. Take Mr. Portnoy:

Instead of moving his mother into an assisted-living apartment three years ago, Eli Portnoy rented condos for both of them, two floors apart, at Canyon Ranch Hotel & Spa in Miami Beach, Fla. His mother received many of the same services and amenities that would have come with an assisted-living facility-on-site doctors, healthy meals, a gym and all kinds of wellness classes-but in a far more appealing setting.

Indeed. Call it "retirement resort" living, or maybe the new assisted living? Whatever you call it, it could be cheaper than a traditional assisted living facility, where a one-bedroom unit can cost as much as $9,500 a month before any add-on services, according to long-term-care insurer Genworth.

Piecing together typical assisted living services-housekeeping, laundry, meals, activities, transportation to doctors' appointments-a la carte takes more work, and may be tough to pull off "without the vigilance of a good advocate, typically an adult child," the WSJ notes. But it could significantly cut down costs.

Bob Preston, a retired CPA in Sarasota, Fla., rented a home in Costa Rica for his father-including a supervising nurse, three aides, a care coordinator and a chauffeur-for $3,500 a month.

We had tried everything in this country," Mr. Preston says, such as an assisted-living facility that cost $8,000 a month, including private help. He was frustrated by the lack of attention being paid to his father, the retired chief financial officer of a large pharmaceutical company.

Portnoy said his mother's condo, plus round-the-clock home health aides, cost less than living in a high-end assisted living facility.

Tuesday Quick Hits

Huffington Post columnist Ann Brenoff asks what music boomers should be listening to ("isn't there anything new we might like?") and finds her answer in music-streaming service Spotify.
The U.S. Department of Labor is not letting push-back from the financial services industry delay a new fiduciary rule for retirement plan advisers meant to make them more accountable for advice they give, according to Reuters.