The Takeaway: Wine Country Retirement Community Will Provide Continuing Care for Gay Seniors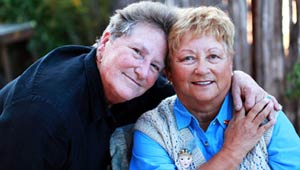 Gray & Gay: Fountaingrove Lodge in Santa Rosa, Calif., is a retirement community being built mainly for gay and lesbian seniors-and it's being promoted as the first of its kind in the United States. While many "niche retirement communities" exist-including a growing number of LGBT communities-Fountaingrove will provide a combination of independent and assisted living facilities (including dementia care), all on a 10-acre site in the wine country of Sonoma County.

See Also: AARP's Pride Page >> 

More places like this are needed, SAGE (Services and Advocacy for G.L.B.T. Elders) tells the New York Times. The New York-based group put out a report last November on the discrimination gay seniors often face when buying or renting a home or trying to find a spot in mainstream retirement communities. And it's common for same-sex couples to be separated when they are admitted.

Other gay retirement communities - there are about a dozen nationwide, according to SAGE - have faced difficulties. Highly publicized projects like RainbowVision in New Mexico have gone bankrupt during the recession, with critics pointing out that some communities were driven more by activism than sound economics.
But Fountaingrove's developers, Bill and Cindy Gallaher, have a strong record of building successful retirement communities. Fountaingrove is meant to appeal to a well-off crowd, with homes running from $295,000 to $925,500 (refundable upon leaving) and monthly charges as high as $7,000 for a couple.
Monday Quick Hits:

Sibling rivalry hits the obit page: When Angelo "A.J." Anello of Florida placed an obituary for his mother Josie, earlier this month, he took the opportunity to insult his brother and sister in print.
Only half of New York judges are expected to retire by age 85, mirroring the federal courts across America, where age is valued like nowhere else. Older judges benefit from having nothing to prove said 90-year-old Judge Jack Weinstein, a World War II veteran appointed by President Lyndon Johnson to the bench more than four decades ago.
Photo: Eric Draper/The New York Times/Redux