Which NFL Team Has Fans Loud Enough to Trigger Earthquakes?
If you're lucky enough to attend Sunday's NFL playoff game between the Seattle Seahawks and the Green Bay Packers, bring your noise-canceling headphones. It might also be a good idea to tie down your valuables before you leave home. Seismographers from the University of Washington have found that the crowd noise at CenturyLink Field is so loud that it generates earthquakes. Minor ones, so far, but this is a big game.

CenturyLink Field holds the record for the loudest outdoor sports stadium, thanks to its famed 12th Man (crowd noise). The decibel level at the record-breaking game, in December 2013, was 137.6 decibels. That's quite a bit louder than a jackhammer and just below the noise of a jet engine at fairly close range. It's also well into the range where it can cause immediate hearing damage. (You can read more about this game and other football hearing issues here.)

>> Get discounts on hearing aids and more with your AARP Member Advantages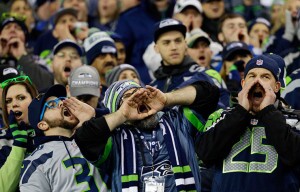 Researchers from the University of Washington installed two seismometers at CenturyLink Field several years ago. In Seattle's earthquake-prone vicinity, it was big news in 2011 when running back Marshall Lynch made a 67-yard touchdown, setting off seismic activity now fondly known as the BeastQuake. Last Sunday's playoff between the Seahawks and the Carolina Panthers also set off seismic activity.

The Seattle Times interviewed Steve Malone, professor emeritus at the University of Washington Seismologic Laboratory, after last Sunday's game. Since TV has a 10-second lag time, he told the reporter, the seismologists were able to see the crowd reaction, in terms of seismic activity, before the play was even shown on TV. It would be good if CenturyLink Field also attracted the interest of audiologists. Maybe they could measure how many Seahawks season ticket holders have hearing loss.

One of the few people at CenturyLink Field not in danger of hearing damage is fullback Derrick Coleman, who is deaf. This gives him a distinct advantage over his teammates, because he can lip-read the quarterback's plays. Even though he can't hear the crowd noise, he can feel it. He's a human seismometer.

Update: 1/19/15. Seattle Fans Broke Their Own Record. See Dance Quake, Seattle Seahawks.

Photo: AP/Elaine Thomson

Katherine Bouton is the author of Shouting Won't Help, a memoir of adult-onset hearing loss. She has had progressive bilateral hearing loss since she was 30 and blogs about healthy living — and healthy aging — at Hear Better With Hearing Loss. She is a member of the Board of Trustees of the Hearing Loss Association of America.













Also of Interest:

See the AARP home page for deals, savings tips, trivia and more.