An Early Lead for Jeff Gordon Doesn't Pan Out, but Drive to End Hunger Still Wins
By Jen Martin , February 25, 2013 01:38 PM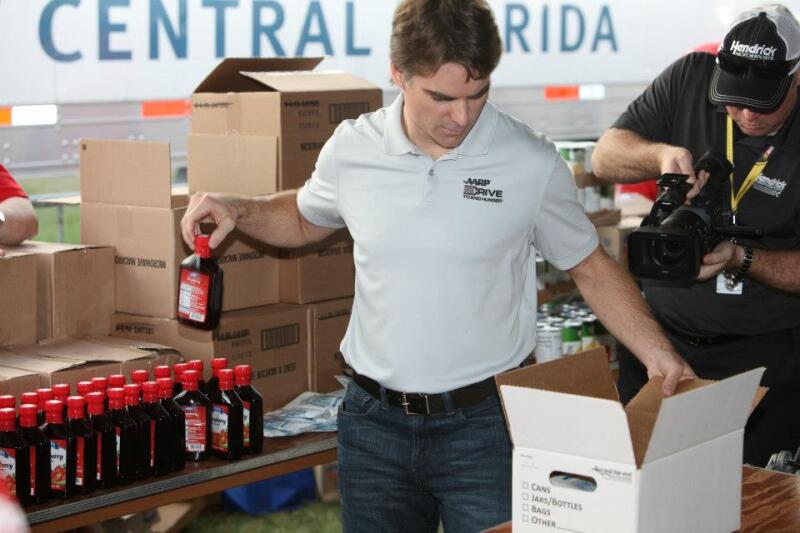 What happens behind the scenes at a NASCAR race is just as important as what takes place on the track, and that was the case for four-time NASCAR Cup Series champion Jeff Gordon and the Drive to End Hunger #24 Chevrolet at this year's Daytona 500, a history-making edition of NASCAR's biggest race.
Jeff started second, behind Danica Patrick, the first woman not only to earn the coveted pole position but also to lead a lap at Daytona and to finish in the top 10 (she was 8th). But by the middle of that first lap, Jeff was in the lead and stayed there for the next 30 times around.
Unfortunately for the Drive to End Hunger team, it wasn't to last. Five laps short of making history himself by becoming the all-time leader in first-place laps at Daytona, Jeff fell back; radio conversations with crew chief Alan Gustafson indicated that problems with water temperature and pressure were hurting the car's performance. The amazing #24 pit crew got things worked out, and Jeff started moving up the ranks again toward the end, as high as fifth. He certainly looked to be a factor in the finish, which turned out to be gripping, but a fiery crash in the last lap that Jeff got caught up in held him to 20th. It really was a heck of a race, with a barn-burner ending, and may just have won NASCAR new fans who had only idled by to see what all this Danica Panica was about.
Despite the consolation that Hendrick Motorsports teammate Jimmie Johnson won the race, there was definite disappointment in the #24 garage after. But further behind the scenes, folks were celebrating a much better finish for the Drive to End Hunger team. Over the weekend, Drive to End Hunger volunteers packed more than 38,000 meals for the Second Harvest of Central Florida food bank. And once again, as in the last two years, the International Speedway Corporation, owner of the Daytona International Speedway and almost all of the other leading tracks on the NASCAR circuit, helped out with donations of extra food through their concessionary wing, Americrown.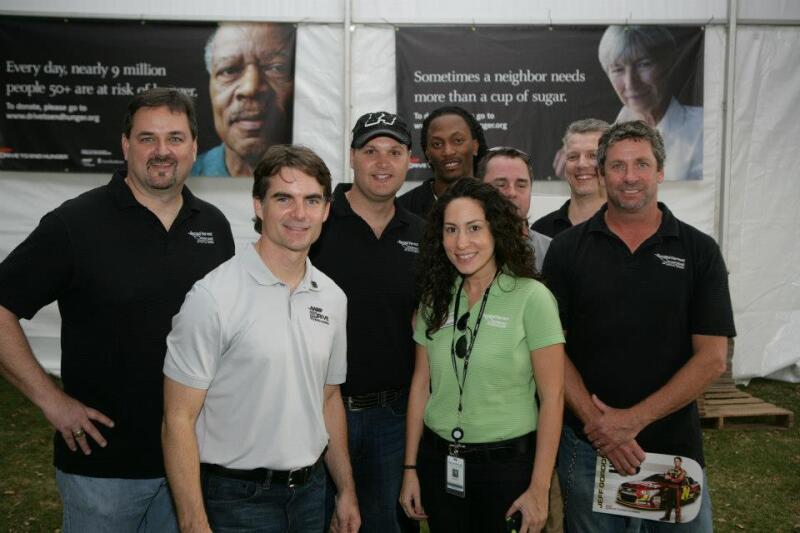 The partnership with ISC - the teamwork with them and with other sponsors - is the secret behind Drive to End Hunger's ongoing successes. "Millions of older Americans are forced to make impossible decisions about whether they can afford to eat, see a doctor, or stay in their home," said Jo Ann Jenkins, AARP Foundation president. "We are so proud to be working with ISC and Americrown to help make those choices a little easier in communities across the country."
No one likes to waste food. Drive to End Hunger and ISC have found a way to turn that potential waste into a bonanza. It's a win-win at the checkered tablecloth.
And the numbers really are adding up. Since its inception, Drive to End Hunger has generated 16 million meal donations; $14.9 million has been raised through corporate partnerships and donations from everyday folk; and Drive to End Hunger food drives at 46 food banks across the country have raised another $1.76 million.
People see the passion in Jeff's eyes about winning, and they see that it applies not just out there on the track, but back there in the soup kitchens and church basements and community centers and parking lots lined with folding tables for assembly-line packing of grocery bags and meal parcels. It's about winning the fight against food insecurity, and winning it with teamwork.
Both Jeff and Jenkins were part of the team packing grocery bags before the big race this weekend. The partnership they've formed will carry the good work forward to the next race and the next Drive to End Hunger event, fueled by that unfading passion to keep winning. You just might want to come along for the ride.
Help leave older adult hunger in the dust with a donation to Drive To End Hunger. You can also make a difference by volunteering at a local food bank. For other volunteer opportunities, please visit Create The Good.
Photos by Brian Berry