Volunteers Feed the Soul at the Ronald McDonald House
There's a special connection that comes with preparing meals for others too heartbroken to cook for themselves. Making those dinners with a group of volunteers brings an intimacy and humility that cannot be matched. And one of the best spots I know to do that is at the Ronald McDonald House in Falls Church, Va., a place that offers comfort, refuge and care for families whose children are battling life-threatening illnesses.
Ending hunger could be a SNAP »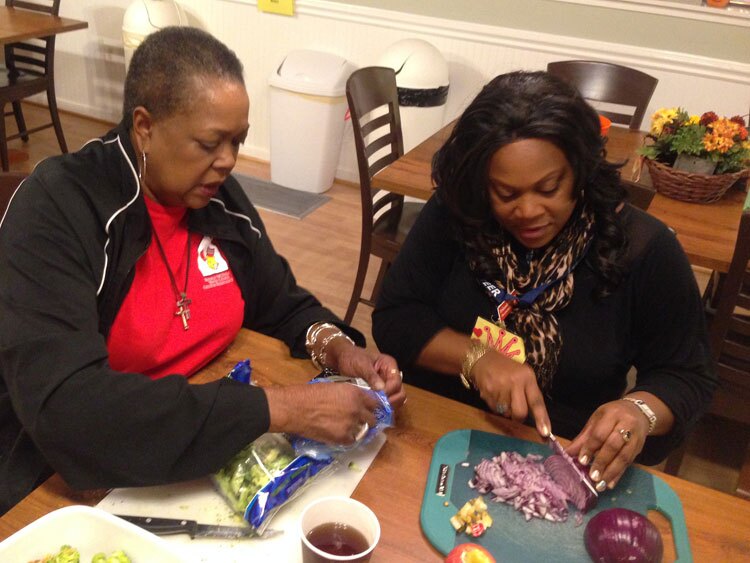 Jarun Brown, 64, chops broccoli as we create a salad for 14 family members staying at the House. A social worker and former McDonald's executive, she once "danced for a minute" with the Alvin Ailey Dance Company. Her previous corporate position earned her a seat on the Ronald McDonald House Charities (RMHC) board in Norfolk, Va., and she began volunteering with the Falls Church Ronald McDonald House six years ago.
"We do whatever is needed," Brown says of the volunteers' work. That could mean cooking a meal, cleaning the house, rotating refrigerated food or writing thank-you notes. Although volunteers and families don't often stay in touch after leaving the House, Brown has kept in contact with a few families over the years. "It's great to hear how our families are doing, and learn about the children's recovery process," she says.
Erin Petri, the evening manager, joins us. I give her an onion to chop and hope she doesn't cry. A few minutes later another volunteer, Beverly Johnson, comes in. Volunteering with RMHC was on her bucket list after suffering the loss of a child years ago. A place like the Ronald McDonald House would have been helpful to her.
"I can relate [to what the families are experiencing] and that's what makes it so special and so rewarding to me," she says as she chops apples.
The families begin to enter the dining room. Several of them are drawn to the aroma of pineapple chicken simmering on the stovetop. We finish the broccoli salad and set it on the counter, next to the stove with the chicken and rice. It smells delicious and comforting, and we are happy that we have given these families what may be the only positive event for them that day.
Help bring relief to struggling seniors; find volunteer opportunities near you »
Johnson offers to clean up, and I happily accept. "It is good therapy for me," she says of her Ronald McDonald House work. "I think I've found my niche."
Photo: Jane Hess Collins
Also of Interest

See the AARP home page for deals, savings tips, trivia and more.