Community Comes Together to Build a Playground for All Ages
Judith Haskins, 70, couldn't wait for Monday. As a teacher at the Cora Kelly School for Math, Science and Technology in Alexandria, Va., she knew her first-grade students would burst into her classroom with excitement. That's because over the weekend, the nearby Hume Springs Park was transformed from a worn-out playground into a vibrant, multigenerational open area, complete with benches, shade, an inviting playground and adult exercise equipment.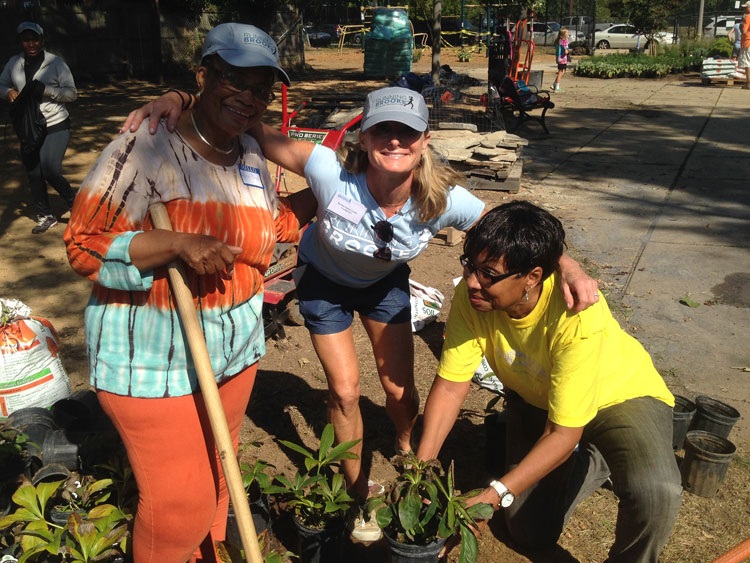 Haskins was one of more than 100 people who showed up on a Saturday morning to redo the park, a project 18 months in the making. Brooke Sydnor Curran, founder of the nonprofit RunningBrooke, spearheaded the effort and collaborated with the City of Alexandria Department of Recreation, Parks and Cultural Activities, the Rotary Clubs of Alexandria and Carshalton Park, England, and local and international businesses.

Help bring relief to struggling seniors; find volunteer opportunities near you »

Curran, who runs in a marathon each month to raise money for undertakings like the playground, is passionate about preparing at-risk children for school and getting them outside for physical activities.

"We wanted to make sure we built a playground that the neighbors wanted," Curran said. After meeting with city planners to identify parks that needed a reboot, Curran and her team surveyed neighborhoods and held town meetings to find the perfect site. They selected the Hume Springs area, home to the highest percentage of children age 5 and under in Alexandria, 80 percent of whom are eligible for free and reduced-price lunch.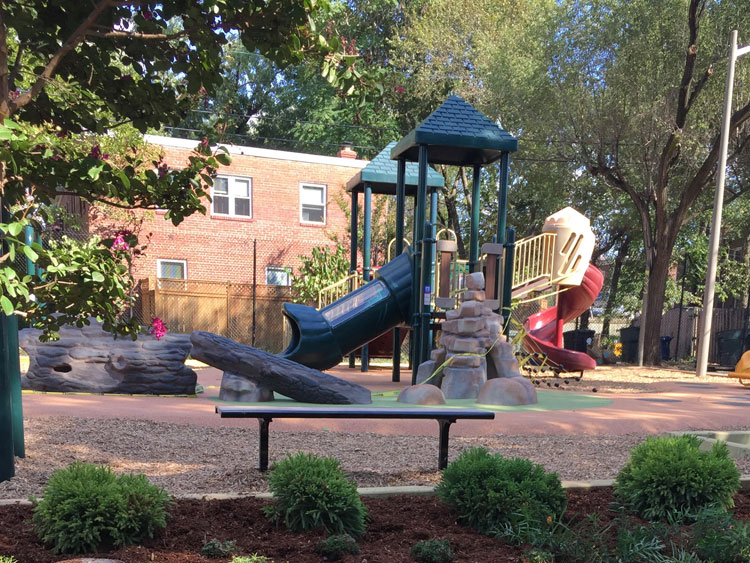 A one-day online fundraising event in 2014 helped raise the $80,000 needed to revitalize Hume Springs. Over the next year Curran galvanized city officials, corporate sponsors and volunteers.

Park renovation day came on a beautiful morning. We checked in and donned our RunningBrooke visors. Bagels, water and sports beverages kept us fed and hydrated, and a food truck appeared at noon with wraps and drinks. Tasks were listed by number of volunteers needed and level of difficulty. I joined an "easy" group and shoveled wood chips into the playground area. "Hard" groups broke the clay soil with shovels to plant shrubs and trees, and poured concrete to anchor the benches.

Curran, who recently completed her 92 nd marathon, is on track to raise $1 million by 2017. "We want kids to be moving," she said. "This [playground initiative] is something that can be done in other communities as well. We would love for them to reach out to us."

Put your time, knowledge and talent to use as a tutor with AARP Foundation Experience Corps »

As Curran spoke, volunteers dug holes, shoveled, planted and took the occasional break. It was nearly noon and time for the shift change. She surveyed the park. "The most fulfilling part for me is seeing this all come together," she said. "Seeing a hundred people show up on one day to build a playground, that is what keeps me going."

Photos: Jane Hess Collins and Brooke Sydnor Curran

Also of Interest



See the AARP home page for deals, savings tips, trivia and more.