Astronaut Abby - Inspiring Others to Dream Big
By Jen Martin, April 23, 2013 08:00 AM
This is a guest post by Abigail Harrison. Otherwise known as Astronaut Abby, Abby is a 15-year-old high school STEM student and aspiring astronaut whose ultimate goal is to be the first astronaut to Mars in 2030.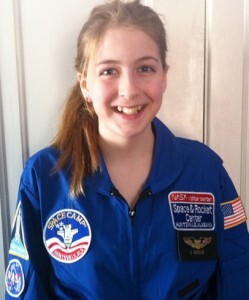 It's amazing how one meeting, one interaction, one event can change our lives. This has been the case for me as I have ventured out to make my dream of becoming the first astronaut to Mars a reality. I may only be 15-years-old, but I have made connections that have already changed my life. What I have learned is that people have so much power to help shape the destiny of others, simply by offering a helping hand. My own experiences have led me to setup an outreach program to inspire kids and adults everywhere to dream big. My inspiration to setup a program to inspire others came from my mentor, Italian Astronaut Luca Parmitano, here is what he has taught me:

Lesson 1: Listen and Connect

I met Luca by chance in the Orlando Airport, after the last launch of Endeavour was scrubbed. Luca was really interested in my goal to be the first astronaut to Mars and spent over an hour talking with me. This meeting ended with him giving me his email address and telling to email him anytime with questions. My mom nudged me and jokingly said, "Look Abby, you've got your very own astronaut!" and Luca turned around and said, "I would be honored to be your astronaut." Hence a mentorship began.

When you meet someone who is passionate and whom you can inspire with your own successes, take time to listen to them. It's amazing what a few minutes can do to boost someone else and encourage them. Not everyone can be your mentor or mentee, but showing interest in others and their pursuits is incredibly valuable. Inspiring others should be something we all strive to do daily.

Lesson 2: Dreams and Passions

The best advice that Luca has given was to do what I love and not try to fit some pre-conceived idea of what NASA is looking for in an astronaut. This has guided me in the courses I choose in school, and the path by which I will accomplish my dream of being an astronaut. Regardless of where my path leads me I know I will be happy because I am following a course of study that is interesting to me.

Inspiring kids and adults to follow their dreams and passions is a cornerstone of my #SoyuzAdventure Outreach Campaign. From Luca I have learned that average people do extraordinary things everyday and it's important to inspire people to reach for the stars whatever their version of stars may be.


Lesson 3: Share Your Experiences and Inspire Others

Besides being passionate about space and science, Luca and I have a joint passion of inspiring kids to dream big. It is through Luca's own generosity of being my mentor that I have aspired to ignite passion for more kids in a bigger way than simply to blog about my experiences.

I knew, when I was invited by Luca to attend his Russian Soyuz launch on May 28, 2013, that sharing the experience was something I was compelled to do. Just as Luca had inspired me, it was now my job to do the same for as many other kids as possible. So I launched my #SoyuzAdventure Outreach Campaign with six months of classroom visits, web chats, writing and speaking that is designed to reach kids around the world and ignite passion about space, STEM and dreaming!

I hope to be able to share these lessons that Luca has taught me with many others. The smallest of gestures, a mere conversation, or something more, can change a life forever. Making connections to follow your dreams, and then using your passions to inspire others is an amazing thing. A mentor often asks for nothing in return, except an unspoken agreement that when the time comes, you will do your best to help someone else in the future. Imagine if every professional found one teenager or young adult to mentor and gave them the same gift that Luca has given to me. The results would be phenomenal! Who will you help today?

When not in the classroom or on the gymnastics mat, Abby can be found attending rocket launches around the world, visiting classrooms to share her experiences, speaking with world-renowned astronauts and scientists and penning articles for space-related magazines and websites. You can learn more about Astronaut Abby here.



Also of Interest

Join AARP: Savings, resources and news for your well-being


See the AARP home page for deals, savings tips, trivia and more