End Senior Hunger: Nominate Your Hero
By John Briley, May 27, 2011 09:12 AM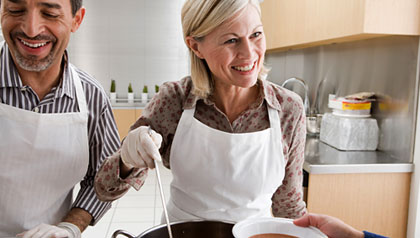 At AARP we are always on the lookout for creative ideas to address issues and inspiring stories of people who are helping others. Often, the best ideas and stories come from you, our extended community.

That's why AARP Foundation launched the Hunger Hero Contest. We are looking for outstanding individuals 50 and older whose innovative work has made a difference in the fight to end senior hunger.

No one of any age should go hungry in the United States. Yet today, 6 million older Americans face the threat of hunger and are forced to skip meals, buy poor quality food, or choose between paying for prescription medications or their next meal.

The good news: People are out there working to end senior hunger, and chances are some of you know who those heroes are. So nominate your hero today - and, yes, you can nominate yourself! The Hunger Hero contest supports Drive to End Hunger.

The winner will receive an AARP The Magazine Inspire Award at a red-carpet gala in Washington, D.C., in December 2011, and will be featured in the December/January 2012 issue of AARP The Magazine. Additionally, the winner's charity will receive a $15,000 donation from AARP Foundation to help that organization continue its work to end senior hunger.

And if you want to do more to address senior hunger, check out the Create The Good do-it-yourself guides on organizing a food drive and helping someone get the food they need through the SNAP program (formerly food stamp program). You can also visit Drive to End Hunger for volunteer opportunities in your community.

As always, feel free to share ideas and stories here - we want your input! You could be helping more people than you realize.