Experience Corps Chicago Driven by Passionate Latino Leaders
By AARP Illinois , February 28, 2013 12:27 PM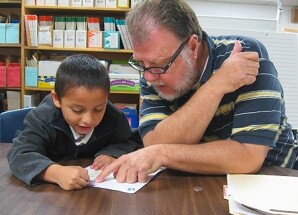 AARP Experience Corps Chicago aims to improve child literacy rates among young Chicago Latinos. As the office gears to open in March, Myrna Torres takes her position as Experience Corps Chicago's new Branch Director. Tomas Revollo, a retired principal and educational thought leader, volunteers his time and expertise to connect Experience Corps with current Chicago Public School principals. Both have a deep interest in serving the Latino community, and that interest is invaluable in completing EC's mission.
 If you are ready to help a child improve his or her reading skills, please contact us at ecchicago@aarp.org or 1-888-698-3335. 

AARP Experience Corps is a nonprofit organization devoted to increasing literacy among underserved student populations. We are recruiting 600 volunteers age 50 and older to work in 25 Chicago Public Schools, improving the reading skills of students from kindergarten through third grade. The program will launch for the 2013-2014 school year. Chicago volunteers will become part of a network of 2,000 Experience Corps members in 19 cities who make a profound difference in the lives of children, schools and their communities.
The focus of the Chicago branch of Experience Corps will be citywide, and a major focus of the program is in schools where English is often not the first language at home. The ability to speak Spanish will be a plus for volunteers wishing to work in Chicago's Latino neighborhoods.
Dedicated Youth Education Leaders
Torres has worked extensively with Chicagoland youth-serving programs. From 2006-2008, Torres held the position of chief program officer at Gads Hill Center, a nonprofit community-based children and youth-serving organization in the west side's Pilsen and North Lawndale neighborhoods.
"It will be wonderful to reconnect with the Pilsen community," Torres said, referring to her time at Gads Hill. "As a Latina, my first language was Spanish. I clearly remember the struggle it was for me to learn the English language. It was extremely difficult."
Torres believes she has achieved so much because of her education. With AARP Experience Corps, she works to ensure those opportunities are more widely available.
"Today, I am successful because I acquired good reading skills. We have a responsibility to support our young children so they too are on a path to success," Torres finished.
Revollo adds much as well. For 14 years, Tomas Revollo was principal at Chicago Public Schools' Thomas J. Waters Elementary School in the Ravenswood neighborhood. During his tenure, the area served by the school was mostly Latino. Revollo's biggest interest is to mentor and inspire Latino leadership. He believes that, while Chicago does not have many Latino leaders in education, Experience Corps will remedy that.
"The beauty of Experience Corps is in exactly what the title suggests. [There is] nothing better than to bring adults into schools. They have much to offer. It will not only help with student achievement, with literacy, but it also will help to have adult interaction."
The connections that Torres and Revollo have to Chicago's Latino community are critical to the program's success. Experience Corps is looking to provide much for these communities that are spread throughout the southwest, west, and northwest parts of Chicago.
Torres and Revollo's influence as thriving Chicago community leaders pays homage to the effect of the AARP Experience Corps program. Experience Corps aims not only to increase literacy, but also to provide adult models of success.
Are you interested in working with Experience Corps? Seeing successful, adults they can relate to provides Experience Corps students inspirational role models! While volunteers can come from any part of the city or surrounding suburbs, Experience Corps is actively seeking volunteers from the surrounding neighborhoods closest to the schools targeted. Chicago volunteers for the 2013-14 schools year will receive excellent training and support. You must have a high school education and be fluent in English. Please contact us at ecchicago@aarp.org or 1-888-698-3335.
Volunteers commit to 4 to 12 hours per week in the classroom. They spend this time reading to students in K-3. Volunteers are asked to stay with Experience Corps for at least one school year, typically late August through the end of May.
By Jake Cashman