I Have the Need for Speed
By Jen Martin, February 19, 2011 10:57 PM
Last week Beth was in Daytona and now it's my turn. And like Beth, before this weekend, football was the only sport that had my heart racing, no pun intended. I'm here for what a co-worker called the Superbowl of NASCAR - the Daytona 500. It's the biggest race of the year and here I stand with the equivalent of a learner's permit.

My first day here, I met a few fans at the Winn-Dixie "Winner's Circle Event" in Altamonte Springs. "Oh I love the color of the car," said one fan wearing a Jeff Gordon t-shirt. "I"m a huge fan." So as a NASCAR fan, it's important to claim a driver. Obviously I'm a Jeff Gordon fan, I think so myself, wondering how I can score the t-shirt she's wearing.

The next day I'm at the Daytona Midway, a thorough-fair of driver, food and merch tents and trailers. Fans pile into the Drive to End Hunger tent. They take photos with the car, attempt bragging rights on the car simulator and donate money to the Drive to End Hunger. They. Love. Jeff. Gordon.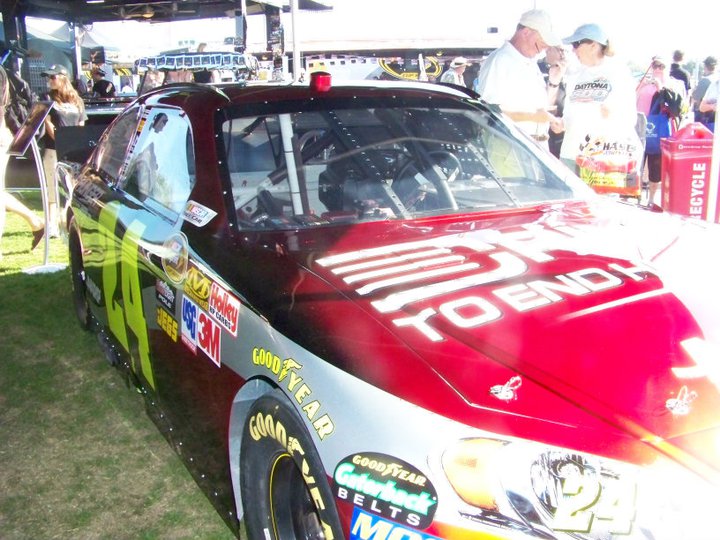 Today I got to see a part of NASCAR I never thought I'd see. I walked under the track into the infield. The infield is for the diehards. They camp out in trailers and live in the middle of the track. They bring their pets, their cornhole games and family all to be closer to the sights, the smells and the sound. Oh the sound!

I saw a piece of the Nationwide Series today and it fueled me up - pun intended. The anticipation of the arrival around the fourth turn, the sound, the unbelievable speed! It literally shook the ground and I captured THIS. It doesn't nearly do it justice.

Respect, awe and amazement and it's not even the big day yet. Tomorrow I get to go behind the scenes a bit more and I'll have an even better view of the track. But what I really want to do is make friends with someone playing cornhole and watch the race from the top of their RV while sipping an ice-cold Pepsi from a Jeff Gordon koozie.

Check out some of the photos from the weekend HERE.