NASCAR's Jeff Gordon Ends the Year With Many Victories!
By Jen Martin, December 5, 2012 01:54 PM
It's been a big fall for Jeff Gordon, who has been behind the wheel of the No. 24 Drive to End Hunger Chevrolet for nearly two years, helping AARP Foundation raise millions of dollars to help feed nearly 9 million older people age 50+ who are struggling with hunger in the U.S.




Last week, the National Motorsports Press Association awarded him the prestigious Myers Brothers Award for his contributions to NASCAR.

On Nov. 18, just after Jeff ended the NASCAR Sprint Cup series season with a big win at Homestead, AARP Foundation president Jo Ann Jenkins announced that AARP has signed a second two-year contract with Hendrick Motorsports to continue sponsoring Gordon and his No. 24 Chevrolet.

And today AARP Foundation announced the release of the design of the 2013 No. 24 Drive to End Hunger Chevrolet SS, driven by four-time NASCAR Cup Series champion Jeff Gordon. More photos of the new paint scheme design can be found at www.DriveToEndHunger.org.

"We hope the addition of Drive to End Hunger's signature fork logo on top of the No. 24 Chevrolet SS will provide another visible reminder about the plight of 9 million older Americans who struggle to put food on the table, as well as the steps we can all take to help," said Jo Ann Jenkins, president of the AARP Foundation.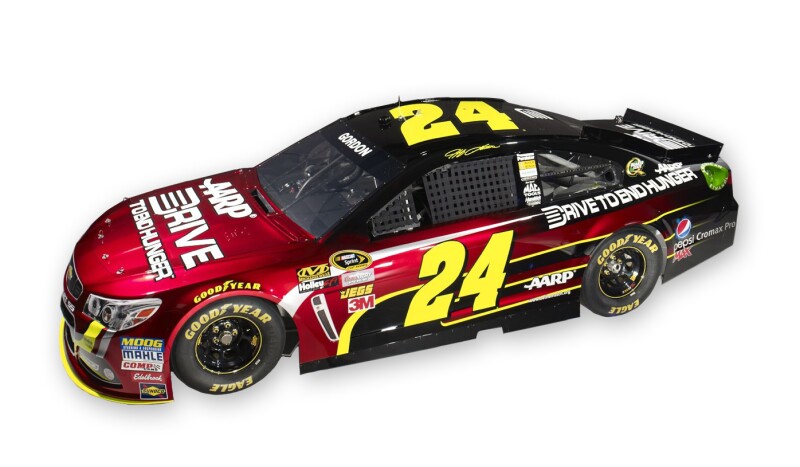 And that's not all. On Dec. 10, Jeff will receive the Heisman Humanitarian Trophy in New York, the first person in motorsports to do so. Now in its 7 th year, the Heisman Humanitarian Trophy recognizes those from the sporting world who give significantly of themselves to serve their communities and to improve the life of others.

"No one in the world of sports could do a better job than Jeff has," said Jenkins. "His support and generosity have brought the message about senior hunger to millions of people. We are very proud - and not the least bit surprised - that Jeff has won two such prestigious awards: the Myers Brothers Award and the Heisman Humanitarian Award. We were already excited about next season, but now we just can't wait until Daytona. Drive to End Hunger has a great driver in a great ride, moving towards a great cause," said AARP Foundation President Jo Ann Jenkins.

Photo of Jeff Gordon Credit: Tom Pennington/Getty Images

Photo of No. 24 Drive to End Hunger Chevrolet credit: Richard McLaren