Martinsville: Memories, Mayhem, Marvelous!
By Jen Martin, April 5, 2011 05:00 PM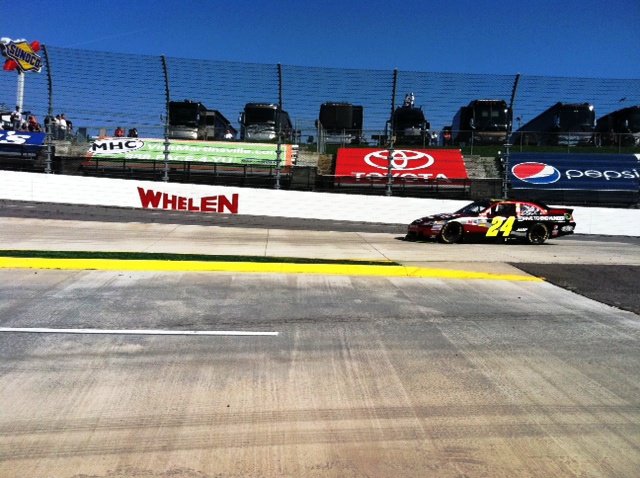 Adrenaline rush: Turn 3 at Martinsville from the infield.

This is a guest post from AARP's Deb Silverberg, who was on the ground at the April 3 Sprint Cup race in Martinsville.



Memories - so many, Mayhem: it is a short track, after all. Marvelous...more on that in a minute. Before we move on to race highlights, how about the most important M-word? Meals.

Not only did our No. 24 Jeff Gordon make an impressive Top 5 finish in Martinsville, but more than 290,000 in food and cash donations have been raised through the AARP Foundation and Drive to End Hunger effort. And we're not even around Turn 1 of this year's NASCAR Sprint Cup Season. The generosity of race fans -- and of the many others who are helping us fight hunger - has given us all something to cheer about.

And cheer we did on Sunday - from the grandstands, and from living rooms and family rooms. Anyone who caught the last 10 laps, not to mention the ones before it, knows what I mean. It didn't hurt that it was a perfect day, or that folks who come near and far to Martinsville are among the nicest you'd ever want to meet. It also doesn't hurt that short track racing is heart-pounding fun.

Not a race fan? You just haven't been to one yet. The only thing more amazing than being among the crowd of tens of thousands was seeing the action from inside the .526-mile track. Among the highlights: Standing so close to Turn 3 that I felt like I was in the car too. Seeing the intensity and precision of masterful a pit stop up close. And breathing a huge sigh of relief seeing drivers walk away after some intense wrecks.

But some of my favorite memories came before green flag day. Earlier in the week the AARP Foundation had made a $10,000 donation on behalf of Drive to End Hunger to Feeding America of Southwest Virginia, with the No. 24 show car and hauler as a backdrop. The food bank does great work, and can feed seven hungry seniors for every one dollar donated.

Later that day a small team of us from AARP Virginia were outside the Tanglewood Kroger in Roanoke with the show car, and the weather had us worried. But damp cold and intermittent rain were no match for true fans and for people who care about a good cause. Seeing kids light up in front of that car (little ones as well as big ones) - and meeting multiple generations like my new friends from Buena Vista, Va., made my Martinsville experience even better than I could have imagined.

See more photos and become fans on our Facebook page, and follow us on Twitter @Drive2EndHunger for coverage throughout the season.

About Deb: Renaissance woman has lived all over Virginia, with stints in MD and PA. Loves rescue dogs and related volunteering, attempting to play golf, Dancing with the Stars, dancing with non-stars, football, NASCAR, and too many other things to list. This longtime old-school PR person is enjoying the wild new world of social media. Follow her on Twitter at @va_deb.