Reed Sandridge: Breaking Down the Barriers of Self-Centeredness
This is a guest blog post from Reed Sandridge. Sandridge lost his job in 2009 and did the unthinkable - he started giving away $10 a day to complete strangers! He captured the story of every recipient atwww.yearofgiving.org. A frequent writer and speaker on volunteering and micro-philanthropy, Sandridge lives in our nation's capital.





Last Wednesday I had the honor to attend a very special event held at World Wildlife Fund in Washington, DC. His Holiness Ogyen Tinley Dorje, the 17 th Karmapa and leader of the Karma Kagyu sect of Tibetan Buddhism, spoke to a standing room only audience. His Holiness, who at age twenty-six is believed by many to be next in line to serve as Dalai Lama, mesmerized the group with both his charismatic wit and chant-like blessing. But one particular statement caught my attention. "We need to break down the walls of self-centeredness," he said through his masterful interpreter. The Karmapa, whose title means Master of Karma, went on to explain how this is relevant to both Buddhism and conservationism.

I was particularly struck by this because this same idea is also at the core of volunteerism. When we volunteer we are acknowledging a greater need than our own immediate needs. We focus our energy in a centrifugal rather than centripetal direction. We understand that collectively our efforts provide essential goods and services that otherwise would simply not be possible if organizations had to secure paid labor.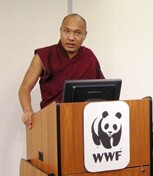 According to the Corporation for National and Community Service, about 63.4 million Americans, or 26.8 percent of the adult population, gave 8.1 billion hours of volunteer service in 2009. There is a system to figure out the value of these volunteer hours that I won't bore you with right now, but for 2009 that value represented a cost savings for nonprofits of more than $8.1 billion in labor costs.

The numbers above are staggering. If US volunteers were an independent nation, we'd be the 21 st largest country - larger than the United Kingdom, Italy or Canada. We would have the 129 th largest economy in the world - not bad for a nation of do-gooders.

Your volunteer hours add up and become part of something much larger. So the next time you are debating whether to spend your time volunteering or doing something for yourself, remember that the 21 st largest country in the world is depending on you.

I'll be back next Wednesday to talk about how to incorporate volunteering into your vacation travel.

Miss a post by Sandridge?

Post 1: Reed Sandridge: Giving During Desperate Times

Post 3: Volunteering on Your Next Vacation

Post 4; 5 Ways Volunteering Can Help You Decide Who to Give Money To

Post 5: Changing Trends in Volunteering in America

Post 6: Volunteering Overseas: My Adventure to Ireland

Post 7: Ireland: The Best Place in Which to Grow Older?

Post 8: Are you a Philanthropist? Maybe

Post 9: AARP Stepping Up Commitment to Volunteerism

Post 10: Cable Companies Helping to Increase Volunteering Rates?

Post 11: A World Without Volunteers