Surviving Sandy: '10 Years of Hard Work and Sacrifice ... Gone'
By Sondra Forsyth, November 19, 2012 10:47 AM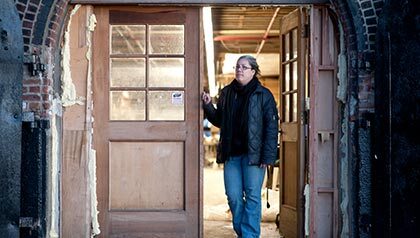 This is the third in a series of profiles of New Yorker area residents whose worlds were upended by Superstorm Sandy.

When Sue Saunders opened the door to her waterfront shop in Brooklyn's Red Hook neighborhood, she burst into tears. New York Printing and Graphics, the business Sue (above) had built from a kitchen-table operation into a thriving venture, had been reduced to a heap of muddy, overturned presses and soggy piles of what was once her inventory.

"I celebrated the 10th anniversary of NYPG last August, right after my 50th birthday," she says. "I had paid cash for everything and I had no debt. Mark, my husband, works for the city, so between the two of us we were set to pay for college for our two teenage sons and save for retirement."

She pauses, still choking back sobs weeks after the storm had stolen her source of revenue along with her pride in making a go of it. Finally she takes a deep breath and manages to say, "Ten years of hard work and sacrifice . . . gone."

See also: AARP Foundation Relief Fund
The previous day, Sue had attended a meeting with representatives from New York City's Small Business Services. The officials were slated to offer options for relief assistance.

"But all they talked about was loans," Sue says. "My friend Mike Ikhmies, who owns Eye Graphics & Printing, spoke for all of us when he said, 'We don't need loans. We need money.'"

Because of the neighborhood's location, no one in the room had been able to get flood insurance. Yet, as Sue puts it, "How can you take on loan repayments when you don't have the cash flow to cover your living expenses?"

Sue says that she and Mark have always counted on two incomes. When their boys were little, Mark's expertise in graphics inspired Sue to launch her company. She set up a single press in a little storefront in Manhattan's tony Tribeca section and did the administrative work at home.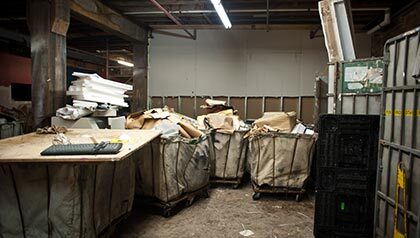 By 2005, when Red Hook was emerging from a gritty past and transforming into a burgeoning business district, Sue took a gamble: She moved her business there. "As of Sunday, Oct. 28, I had five presses, a long list of clients, six regular employees and some seasonal workers," she says. "As of Monday, I had nothing. It's surreal."

Then Sue begins to think out loud. "A FEMA [Federal Emergency Management Agency] loan," she says. "Maybe I'll have to take one after all. And the boys, instead of going away to college maybe they could stay home and enroll in the City University of New York. I don't know. It's too overwhelming."

Her voice trails off and she's silent for a while. Then, with the same drive and determination that had carried her through a decade of running her own business, she musters her resolve. "Somehow, I'll get back on my feet," she says. "I have to. I can't let my family down."

See other parts of the Surviving Sandy series:



Photos: Anna Solo