Surviving Sandy: 'I Thought My Mother Was Going to Die'
By Sondra Forsyth, November 17, 2012 11:46 AM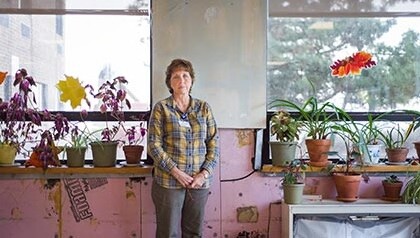 Editor's Note: This is the first in a series of profiles of New York area residents whose worlds were upended by Superstorm Sandy. We were moved by the heartbreaking stories of loss and the inspirational stories of kindness and wanted to share them with you. Knowing that the effort to rebuild lives, homes and communities will take months, the AARP Foundation established the AARP Foundation Relief Fund. This fund will give the nearly $1.3 million already raised to select organizations working to support victims and communities impacted by the storm, including organizations dedicated to serving older adults. Donations will be given nationally to the American Red Cross and locally to organizations in these seven states: Connecticut, New Jersey, New York, Delaware, Pennsylvania, Maryland and Rhode Island. Consider donating, even a small amount, if you can.

Joyce Little was in Maine visiting her son the Sunday before the storm made landfall. Joyce (above) got a message from the Menorah Center for Rehabilitation in Brooklyn, where she's a nurse. "It was an all-hands call," she says. "For Irene, we evacuated but this year they were going to move the first-floor residents up to the second."

Joyce, 54, jumped in her car and drove for nine hours straight. At 9 p.m., she reached her Belle Harbor home in the Rockaways in Queens. "I changed clothes, kissed my husband good-bye, and headed for the nursing home," she says. Once there, she called her mother's number in Breezy Point. Eileen Giglio is 83 and has Parkinson's, so an aide, Margaret Amo (with Eileen below), is with her 24/7.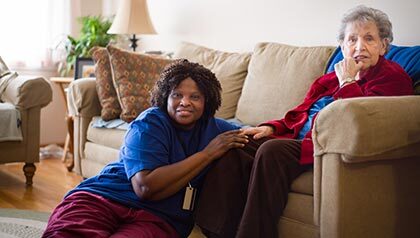 "I told Margaret I'd call after the storm hit," Joyce says. But she wasn't worried. Joyce thought this storm would be a repeat of Irene. She put her mother out of her mind and focused on her patients. "I slept on the floor that night, " she says. "But I thought the storm would blow over and I'd be able to go home soon."

That was before Sandy roared in with a vengeance on Monday afternoon. "The second surge was a wall of water," Joyce says. "I got frantic about my mother. I called Margaret and she said the water was up to the front step. I called again and the water was up to the second step. Then the third step. Margaret said they would have to leave but she didn't know how they could."

Joyce called her husband. By that time, he was trapped with three feet of water sloshing against the house. "He works for the NYPD, so he called Dennis Dier, the director of safety in Breezy Point," Joyce says. "He said, 'My mother-in-law is still in there and you've got to help.' They couldn't get in with cars so they sent boats."

See also: AARP Foundation Relief Fund
Joyce called Margaret back. "She said the trap door had blown open and a geyser was shooting up. She put my mother on the kitchen counter but the water was up that high in no time. I was screaming and crying. I thought my mother was going to die!"

What Margaret did next was nothing short of heroic. She hung up the phone, put Eileen Giglio on her back, and swam to the front door. Once she pushed it open, the boats pulled the two women aboard. Joyce would not hear about this until Tuesday when she finally got in touch with her mother at a shelter in a high school in Queens.

"I stayed at the nursing home for three days and nights," Joyce says. "Then I went home to find that my husband was OK but our house was badly damaged. All that matters, though, is that my mother is still with us. I will be forever grateful to Margaret Amo. What she did was unbelievable. She found a way to save my mother's life."


See other parts of the Surviving Sandy series:


Photos: Anna Solo