The Sunny Dividends of Volunteering
By John Briley, March 11, 2011 04:17 PM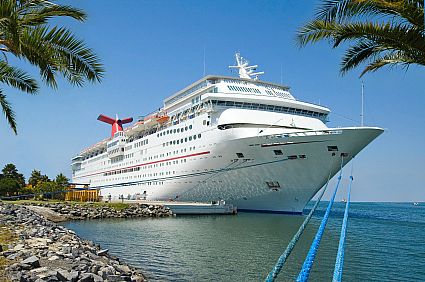 The greatest reward of volunteering is knowing that your effort helped a cause. But sometimes it's nice when someone else celebrates your contribution, and a few weeks ago Cabot Creamery Cooperative did just that. The Cabot, Vt.-based co-op sent 40 volunteers - including five who had been nominated in AARP's Create The Good community - on a six-day Caribbean cruise, the latest in Cabot's annual effort to recognize volunteers for the value they bring to our communities.

This year's winners came from all corners of the U.S. and brought their diverse backgrounds and passions to bear on the causes they chose to aid - child welfare, helping the disabled, cleaning up the environment, honoring fallen soldiers...the list is heartening. Here are just three of this year's winners:

Douglas Dockey taught and managed teachers in Lancaster, Pa., for decades, so he was deeply moved when saw needy students turned away empty-handed from a back-to-school event last fall because organizers ran out of supplies. Using Create The Good's Equipped to Learn toolkit, Douglas organized a highly successful school supply collection, placing collection bins in churches, at AARP chapter meetings, at senior expos and elsewhere.
Molly Sullivan, a retired nurse in Maple Grove, Minn., and the regional representative for the AARP State Volunteer Leadership Team, put her passion for giving back to work when she learned that Maple Grove's new hospital was seeking someone to knit "funky" hats for newborns. Molly recruited knitters through word-of-mouth and a senior newsletter. The 35 knitters, now known as the "Maple Grove Grandmas," have donated more than 2,400 hats since late 2009.
For the past 35 years, Virginia Brant and Sigrid Whitman have led a remarkable amount of volunteer initiatives, priding themselves on working for meaningful change - lobbying the Arizona legislature on desegregation funding for schools and senior issues, designing and implementing award-winning programs to reduce school dropout rates, establishing a "Grandparents Raising Grandchildren" program, and more. As AARP volunteers, they serve on Arizona's Advocacy Network Steering Committee. Their example will continue to pay dividends: Both Virginia and Sigrid have children who are just as active in their communities as their moms are.
Inspiring? We hope so! Check out Create The Good to find volunteer opportunities near you and share a story of how good will is making a positive impact. This isn't about winning a cruise (or anything else) but, hey, you never know who might be waiting to nominate your volunteer effort for recognition.