Why Delivering Meals On Wheels Gives So Much More
"I love to eat," says Tom Irvin, 85, as we loaded up his Toyota with the day's Meals On Wheels deliveries. "I know how important food is."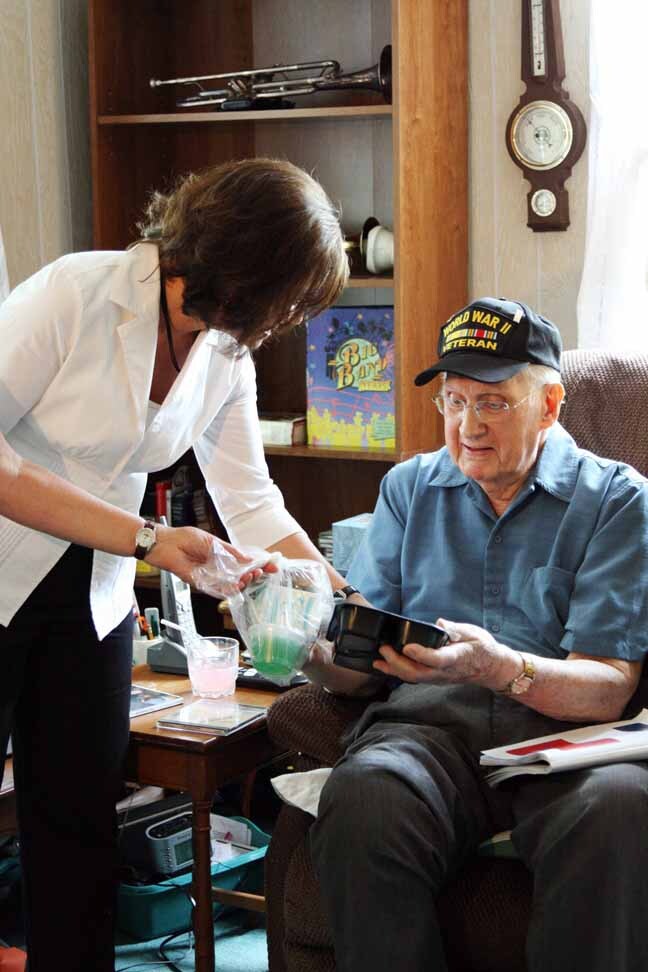 So when a neighbor asked Irvin to join her on a Meals On Wheels delivery seven years ago, it was a perfect fit to him. Today, he distributes hot and cold meals several times a week as one of the 250 volunteers with Senior Services of Alexandria.
"This is my way of giving back," the Army veteran and retired U.S. Department of Education policy writer tells me. "I have had a pretty good life."
>> Find Volunteer Opportunities at Create the Good
At each of our 13 stops, Irvin greets every client by name.
"God bless you. Thank you for what you do," says one woman as she accepts hot lentil stew, sandwiches and bean salad.
Delivering meals does more than keep a senior nourished. "Our volunteers' friendly smile and safety check help our seniors to live independently," says Ellie Hollander, president and CEO of the Meals On Wheels Association of America.
Dick Ede, 88, confirms that. He likes living alone, and credits that to 10 years of visits from Meals On Wheels. Resting in a recliner, he praises the organization's friendly volunteers, fresh fruits and vegetables and variety of meals. "I'm a bad cook," he jokes, "so Meals On Wheels saves me a lot of agony."
Ede's mobility is limited, and he worries about the possibility of high winds during occasional trips to the doctor or grocery. Although he sits next to a picture window and watches television on a large flat screen most of the day, he relies on Meals On Wheels volunteers for a daily weather report.
>> Help End Senior Hunger Today
As I rise to leave, Ede suddenly looks slightly panicked. "Oh, wait," he says. "I forgot. What's the weather like?"
I check my phone app. "Partly sunny, high of 65, winds coming in from the northeast at 16 to 19 miles per hour."
Ede sinks back into his recliner. "Thank you," he whispers.
"Any time," I answer.
Then Irvin and I are off to deliver the next meal.
Photo: Courtesy of the Meals on Wheels Association of America
Also of Interest

See the AARP home page for deals, savings tips, trivia and more.