Challenge to Texas Voter ID Law Goes to Trial
By Richard E. Cohen , September 13, 2014 08:38 AM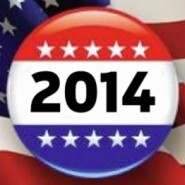 Discrimination against older voters is a focus of a trial in federal court this month over a strict voter ID law in Texas. Although the challenge to the 2011 law chiefly targets its impact on racial minorities, the opening of the case in Corpus Christi featured elderly witnesses who complained that the new requirements impose undue logistical and financial burdens on them.
Sammie Louise Bates, who was born in 1940, said that she couldn't afford the $42 cost of obtaining her birth certificate from the state of Mississippi to comply with the photo ID requirements of the Texas law. "I had to put $42 where it was doing the most good," Bates said in a deposition, the Texas Tribune reported. "We couldn't eat the birth certificate, and we couldn't pay rent with the birth certificate."
Calvin Carrier said that his 83-year-old father, Floyd Carrier, who was an Army paratrooper during the Korean War, lacked proper identification because his birth certificate has incorrect information. When his father brought to the voting place other forms of ID, including an expired driver's license and a voter registration card, poll workers said that they were inadequate, according to his lawyers' summary. Like Bates, Carrier is African American.

Texas Attorney General Greg Abbott, who has defended the law as a deterrent to voter fraud, contends that few voters have had problems with their ID, the New York Times reported. "Voter ID has already been used in several elections in Texas without the disenfranchisement claimed by partisans who seem to be against election integrity," a spokeswoman for Abbott said.
The U.S. District Court in Corpus Christi originally blocked the Texas law in 2012, but its ruling was voided last year when the Supreme Court struck down a section of the Voting Rights Act that required federal review of election-law changes by Texas and some other states. The current lawsuit was filed under another section of the Voting Rights Act.
>> Get discounts on health services with your AARP Member Advantages.
Texas is one of seven states that have enacted voting restrictions now being challenged by national advocacy organizations, according to the Brennan Center for Justice, which filed the case in Texas. The center hopes to block the restrictions so that they do not affect voters in November's election.
Also of Interest

See the AARP home page for deals, savings tips, trivia and more