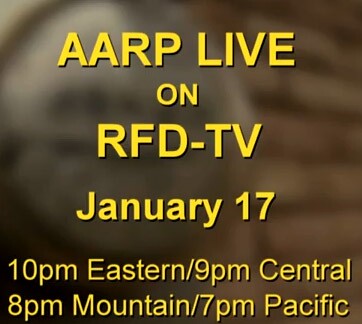 It's a new year and a brand new season of AARP LiVE on RFD-TV. Don't miss the next edition coming up Thursday, January 17th at 9pm CT, 10pm ET. You'll get expert advice on how to save money on utilities, find out where you can go to get help with filing your taxes, and learn the warning signs that an older loved one may need help.
Joining RFD-TV host Mark Oppold on-set are AARP State Directors Sarah Jennings(SD) Sean Voskuhl(OK), and Greg Marchildon (VT) along with Tax-Aide volunteer Pat Bryant .
Viewers are invited to join the conversation by calling 1-877-731-6733, posting a comment on www.facebook.com/AARPLive, or sending a tweet to@AARPLive.
Watch the show on RFD-TV Thursday January 17th at 10PM ET, 9PM CT, 8PM Mountain, 7PM Pacific on RFD-TV, streaming at www.aarp.org/rfd or on Facebook at www.facebook.com/AARPLive. Channel locator at http://www.rfdtv.com/findrfdtv/