At 96, Fred Stobaugh and His Love Song Are a Huge Hit
By Candy Sagon , September 11, 2013 12:53 PM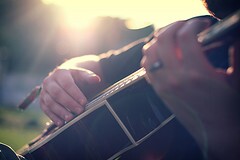 A 96-year-old widower's sweet song about his late wife not only has brought him national attention, he's also achieved a new record: The oldest artist to have a song on Billboard's top 100 - beating out 85-year-old Tony Bennett, no less.
Fred Stobaugh of Peoria, Ill., made the iTunes top 10 last month, alongside megastars like Lady Gaga and Katy Perry.
Stobaugh lost his wife, Lorraine, in April. They met in 1938 at an A&W Root Beer stand where she worked, and were married for nearly 73 years.
His touching song, "Oh, Sweet Lorraine," came to him one night a month after her death. "I was just lonely one evening and just sat down and wrote it," he told NPR.
The words are simple but poignant: "Oh, sweet Lorraine, I wish we could do all the good times over again. Oh, sweet Lorraine, life only goes around once, but never again."
He submitted the lyrics to a songwriting contest sponsored by Peoria's Green Shoe Studio. The contest had requested online video submissions, but Stobaugh's entry came in a big manila envelope with a handwritten letter explaining why he had written the song.
He didn't win, but the heartwarming entry still appealed to Green Shoe Studio's CEO, Jacob Colgan, who had the studio produce it as a single.
"I wanted to bring his lyrics to life," Colgan says in the YouTube video he posted about Stobaugh's song. The video intersperses the song - sung by Colgan, with guitar accompaniment - with photos from Fred and Lorraine's life together.
The video was a smash hit. It's currently been viewed nearly 4 million times, and the story of Stobaugh's moving ode to his wife has been reported in numerous publications, including in Britain.
When Colgan had first called Stobaugh to tell him they would produce the song for free, the widower had cried. In the video he weeps again hearing the song at his home for the first time.
According to Billboard, most of the proceeds from "Lorraine" are going directly to Stobaugh. "Fred needs hearing aids, as well as a new roof on his house," Colgan said.
To hear Stobaugh's story and his song, watch below:
Photo: ginnerobot via Flickr
Also of Interest

See the AARP home page for deals, savings tips, trivia and more