Colbert: Last Boomer on Network Late Night
By Lorrie Lynch , April 10, 2014 03:34 PM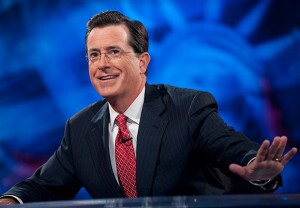 With its announcement today that Stephen Colbert, host of Comedy Central's The Colbert Report, will replace the retiring David Letterman, CBS put the last baby boomer in a host's chair on a network late night show. And while Colbert turns 50 next month, his hiring is clearly a move by CBS to appeal to a younger demographic.
>> Sign up for the AARP Health Newsletter
Colbert has competition from smart Gen-Xers Jimmy Fallon, 39, who took over NBC's Tonight in February for the retired Jay Leno, and Jimmy Kimmel, 46, a late night fixture on ABC since 2003. Letterman, who turns 67 on April 12, had been trailing both men in the ratings until this week, when he popped up to No. 2 (behind Fallon) with news of his retirement.
Colbert, who plays an ultra-conservative talk show host on his Colbert Report, told the New York Times that he will be himself when he takes over for Letterman next year "so we'll all get to find out how much of him was me." In a CBS statement, Colbert said, "Simply being a guest on David Letterman's show has been a highlight of my career. I never dreamed that I would follow in his footsteps, though everyone in late night follows Dave's lead. I'm thrilled and grateful that CBS chose me. Now, if you'll excuse me, I have to go grind a gap in my front teeth."
>> Get entertainment and dining discounts with your AARP Member Advantages.
Former Colbert employer Jon Stewart, host of Comedy Central's The Daily Show, is sure his buddy is up to the job. "He's got a lot more he can show," Stewart told Entertainment Weekly. "He's got some skill sets that are really applicable, interviewing-wise, but also he's a really, really good actor and also an excellent improvisational comedian. He's also got great writing skills. He's got a lot of the different capacities. Being able to expand upon [those] would be exciting."
Photo: Scott Gries/Picture Group
Also of Interest

See the AARP home page for deals, savings tips, trivia and more