Stone, Streep, Scorsese....and Litondo? A Tale of Four Standing Ovations
By Bill Newcott, February 7, 2012 04:04 PM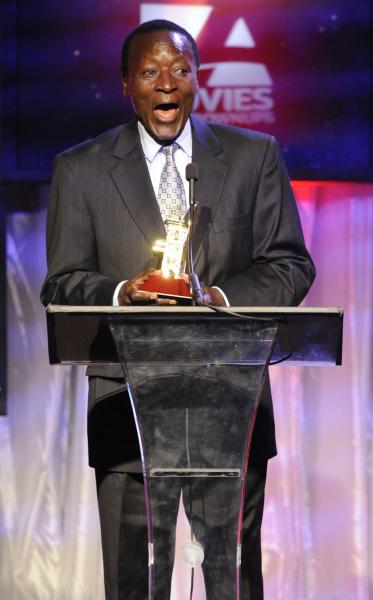 There were four standing ovations at the 11th Annual Movies for Grownups Awards Gala in Beverly Hills last night:

1) For Sharon Stone, accepting our Lifetime Achievement Award.

2) For Martin Scorsese, receiving the Breakthrough Achievement Award for his mind-boggling 3-D masterpiece, Hugo.

3) For Meryl Streep, accepting our Best Grownup Love Story award on behalf of The Iron Lady.

So far, so good, and so expected. Stone, Scorsese, and Streep are Hollywood royalty, and it's no surprise that the audience leaped to their feet the moment they took the stage.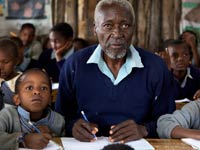 But consider Standing Ovation Number Four: For Best Actor honoree Oliver Litondo, the Kenyan newscaster-turned-actor who starred in the little-seen drama, The First Grader. I'd dare say not a quarter of the people in that room had seen The First Grader, which slipped in and out of theaters virtually unnoticed last year, and is only now becoming available on video-on-demand and DVD. All they'd seen was a 50-second clip from the movie, of Litondo's character, an illiterate Kenyan elder named Kimani Maruge, begging a first grade teacher (Naomi Harris) to teach him how to read. Yet so gripping was that little vignette, and so powerful was the realization that Litondo had come all the way from Kenya to receive this award, that this packed ballroom of Hollywood's elite couldn't stay in their seats.

Litondo was gracious and humble--his strongest words were a plea for filmmakers to come make movies in Kenya, where "our young people are educated but unemployed."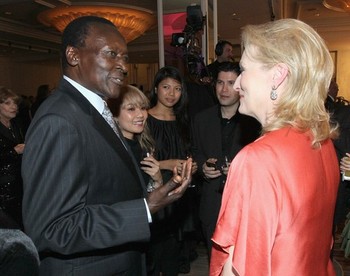 For me, it was perhaps my proudest moment of the evening, because Litondo's award, and the reception he got, so graphically validated what Movies for Grownups is all about. The First Grader was no box office giant, and aside from Naomi Harris, its cast was unknown to American audiences. It slipped in quietly among the films under consideration for our awards this year, and as our editors, one by one, watched The First Grader, the enthusiasm for it grew. When we finally voted for our winners in early December, among the George Clooneys and the Gary Oldmans and the Kevin Spaceys, Litondo was as close to a unanimous choice as I've ever seen.

And that's what the Movies for Grownups Awards--indeed, the entire franchise--is all about. We're gratified when we see our selections echoed by the Golden Globe and Oscar nominations; it's always fun to run with the Big Boys. But even more satisfying is when we discover something special; something that the rest of the entertainment world has somehow overlooked. How many more First Graders , and Oliver Litondos, are out there, just waiting for us to shine a spotlight on them? We never know until we find them, and that's the endless challenge and the ultimate delight we find in presenting these awards each year.