8 Unhealthy Things Never To Buy At A Garage Sale
By Candy Sagon , March 05, 2012 09:00 AM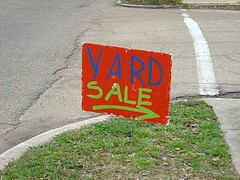 We all like a good bargain, but some of the so-called good buys at garage sales or resale shops can be hazardous to your (and your kids' or grandkids') health and safety. In some instances, they could even be fatal.
The folks at Readers Digest came up with a list of things never to buy at garage sales, plus the U.S. Consumer Product Safety Commission (CPSC) also publishes a helpful list of dangerous, recalled children's products that often turn up at resale shops and yard sales.
The CPSC reminds us that those who re-sell recalled children's products are not only breaking the law, they are putting children's lives at risk. A 1999 commission study found that nearly 70 percent of resale stores sold at least one recalled or otherwise hazardous product.
If thrift shops are your thing, you should also check the safety commission's "Thrift Store Safety Checklist" for hazardous items you should avoid.
Here are 8 unsafe things you should never buy at a garage or yard sale:
1) Bike or motorcycle helmets. Used helmets can have damage that can't be seen by the eye. Used helmets may be less costly, but in an accident, a weakened helmet could put you or a child at risk for a severe head injury.
2) Child car seats. Do not purchase a used car seat. Unless you are 100 percent sure it has not been in an accident (and has not been recalled), the National Highway Traffic Safety Administration recommends you buy a new one. Brand-new seats can cost as little as $50 and safety technology on new models improves each year. Why risk a child's life?
3) Baby cribs. Multiple crib recalls, as well as changing safety standards, make it very hard to verify the safety of a used crib. It also pays to be wary of used playpens, bassinets -- in fact, think twice about buying any used or old baby products.
4) Mattresses. Two words here: Bed bugs. With the critters infesting homes in record numbers, you don't want to take a chance on inheriting someone else's creepy crawlies (as well as their dust mites, bacteria, mold and icky bodily fluids.) There's a reason why sanitary regulations prohibit Goodwill Industries from accepting mattress donations; in some states, it's also illegal to sell used mattresses.
5) Hats. Hats are rarely cleaned before they are sold and, like mattresses, they can contain bed bugs, as well as bacteria.
6) Propane gas camping heaters. Older models have been responsible for numerous carbon monoxide poisoning deaths. Some companies, like BernzOmatic and Turner , are even offering a $250 bounty for old ones returned to the company.
7) Swimsuits, wet suits, undergarments. "Do not, do not, do not buy used swimsuits or undergarments. They're worn too close to the body--someone else's body--to consider buying used," advises U.S. News in its article, "20 Things You Should Never Buy Used." As for wet suits, they lose the ability to keep you warm over time and the constant change in water pressure will eventually wear out the wet suit and make it more likely to tear.
8) Shoes. Some bargain-hunters may argue with this one, but others say used footwear is likely already molded to the last owner's feet and that will make them fit poorly. Plus, they can cause all sorts of health problems, as well.
In other health news:
Robotic surgeries costlier but safer. A new study finds that patients who have robot-assisted surgeries on their kidneys or prostate have shorter hospital stays and a lower risk of having a blood transfusion or dying -- but the bill is significantly higher, Reuters reports.
Medicare patients not always given surgical alternatives. It's hard for patients to participate in decisions about their medical care if they don't know all the options. In a new study, reported in the Wall Street Journal, 64 percent of a group of Medicare patients who had prostate cancer surgery recalled discussing alternatives to surgery with their doctor, but only 10 percent of a similar group having stents for coronary disease said they discussed alternative options.
Cuddling dying pets gives owners infections.  A new report finds that cuddling dying pets through their last days turned out to be dangerous for animal owners who wound up with life-threatening infections from the close contact, according to msnbc.com.
To keep the car keys, older drivers improve their skills. Many older drivers are taking preventive measures to avoid the awkward conversation with concerned family members about giving up the car keys, says the Wall Street Journal. They are monitoring their own driving decisions, noticing their impairments and making adjustments, according to a three-year study by the Insurance Institute for Highway Safety of 1,437 drivers 65 and over. Accidents rates among seniors have declined, except among drivers 85 and older.
Photo credit: /\ \/\/ /\ via flickr.com