AARP Sweats: Athletes We Love
By Beth Carpenter, October 12, 2010 04:30 PM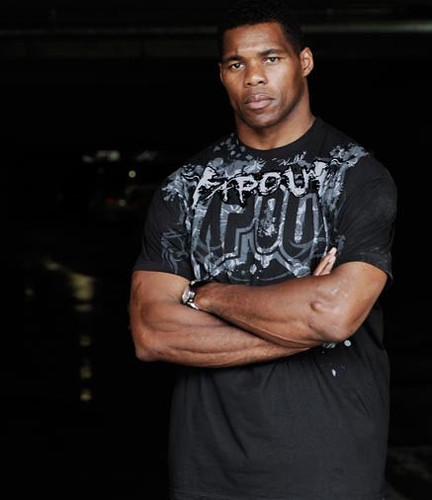 (Herschel Walker, former NFL running back, now a mixed martial artist. Via malleus_brando.)
Herschel Walker has a Heisman trophy and a successful NFL career behind him. He's 48. CNN: "Aging football players tend to get flabby, play golf or relive the spotlight under "Dancing With the Stars."
Not Walker, whose MMA career at 48 has put him with track and field athlete Philipa "Phil" Raschker (63) and swimmer Jeffrey Farrell (73) in ESPN the Magazine's Body issue, out this month.
Pretty impressive, eh? Walker on how he makes his unconventional vegetarian diet work:
"It's a mindset -- something I've been doing for a long time," he said. "I don't worry about protein. I don't worry about all that. I'm from old school. I grew up in south Georgia. They didn't worry about cholesterol or protein. They went out and worked and lived a long time, so I don't put a lot of worries in my mind. I just get it done."