Aspirin The Anti-Cancer Drug? New Evidence From 3 Studies
By Candy Sagon , March 21, 2012 08:00 AM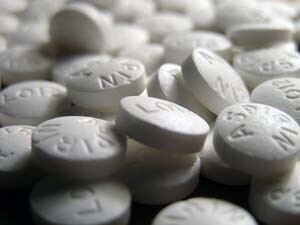 Many people already take a daily low-dose aspirin as a heart drug, but three new British studies suggest it may prevent and possibly even treat cancer.
The studies, published in The Lancet and The Lancet Oncology journals, add to mounting evidence of the drug's anti-cancer effects, reports BBC News.
Previous studies have found that daily aspirin reduces the long-term risk of death from cancer, particularly colorectal cancer, but people needed to take the drug for about 10 years to get any protection. Researchers were also unsure about the short-term benefits, or whether aspirin had the potential to help patients already diagnosed with cancer.
The new studies, led by Peter Rothwell, a professor of clinical neurology at Britain's Oxford University, suggest that the protective effect occurs within three to five years, based on an analysis of data from 51 trials involving more than 77,000 patients.
Rothwell and his colleagues also found that aspirin may not only reduce the risk of developing many cancers, but it also may reduce the likelihood that cancers will spread to other organs by about 40 to 50 percent.

"What really jumps out at you in terms of prevention is the striking 75 percent reduction in esophageal cancer and a 40 to 50 percent reduction in colorectal cancer, which is the most common cancer right now,"  Rothwell told the New York Times. "In terms of prevention, anyone with a family history would be sensible to take aspirin."

Experts warn, however, that there still is not enough evidence to recommend taking aspirin to prevent cancer and they warn that the drug can cause dangerous side effects like bleeding in the stomach, and an increased risk of hemorrhagic strokes.
Otis Brawley, chief medical officer of the American Cancer Society, was also cautious, telling the Times, "I'm not ready to say everybody ought to take a baby aspirin a day to prevent cancer."
Last year, reports Reuters, a study by British researchers even questioned the wisdom of daily aspirin for reducing the risk of heart attack or stroke because, they said, the increased risk of internal bleeding outweighed the potential benefit.
Critics of the new studies noted that the researchers did not include in their analysis some very large U.S. studies that examined aspirin use, and Rothwell's team acknowledged this in their written comments.
In a commentary on the research in The Lancet, Andrew Chan and Nancy Cook of Harvard Medical School called it "impressive" and said it moved health experts "another step closer to broadening recommendations for aspirin use."
In other health news:
Too many colon tests use costly sedation, study finds. Few people want to be wide awake during their colonoscopy exam, but new research suggests too many are getting extra sedation treatment, costing as much as $1 billion yearly, when it's not really necessary. Use of anesthesiologists to monitor sedation during colonoscopies and other digestive imaging tests has more than doubled in recent years, most often for low-risk patients who typically don't need the extra help, reports USA Today.
Some newer antipsychotic drugs no better than sugar pill, new report says. Psychiatrists haven't been given the whole picture of new antipsychotic drugs like Abilify, Zyprexa, Risperdal and Seroquel, according to the Washington Post. A new report says drug companies didn't publish four studies that found that three new drugs performed no better than a sugar pill. A fourth drug was less effective than older, less expensive versions.
The 100 most challenging places to live with allergies. Ahh-choo! It must be spring pollen season because the Asthma and Allergy Foundation of America has just released its annual list of the top allergy capitals in the U.S. The rankings are based on an analysis of pollen counts, number of allergy medications used per patient and number of allergy specialists per patient in 100 of the largest metro areas in the country. The top five spring allergy capitals: Knoxville, Tenn., McAllen, Texas, Louisville, Ky., Jackson, Miss., and Wichita, Kansas.
Photo credit: peoplespharmacy.com