Living Alone: One Man's Lament Touches Nerve With Readers
By Candy Sagon , July 18, 2012 08:00 AM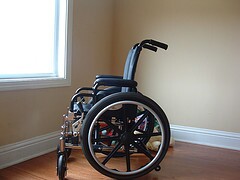 An emotionally moving essay in the Washington Post last week about the loneliness and frustrations of assisted living has sparked an equally emotional outpouring from readers.
More than 530 readers commented online and many sent letters after 62-year-old Martin Bayne wrote about his experience with impersonal administrators, underpaid but hardworking staff, lonely residents, and rooms that, ironically, aren't set up for people in wheelchairs.
Bayne acknowledged that, outwardly, his facility is impressive -- clean, attractive, with good quality food and manicured lawns. He added:

Most residents show a calm, even peaceful veneer. But beneath the surface, all of us are susceptible to the ambient despair that is a permanent component of life in assisted living.

Bayne, the publisher of The Feathered Flounder, a literary journal showcasing the work of older adults, has been in assisted living for eight years because of early onset Parkinson's.
He writes that his experiences aren't unique -- "(they) will resonate with anyone living in an assisted living facility and anyone visiting family and friends there."
Although assisted living can improve life circumstances for many people and their families, he noted, there's also an emotional toll from being surrounded by many who are in mental or physical decline, as well as by frequent death.
Many readers agreed, judging by the comments, although others wrote just as passionately that family decisions about assisted living are rarely easy or simple, and that some facilities do a better job than others of creating a more home-like environment.
One reader, whose 91-year-old father had been in assisted care, wrote in a letter to the Post: "There's a certain loneliness to the existence, to the regimentation...to the fragility of residents' existence that each resident feels. I don't know what the answers are to the situation, but I agree that changes can and should be made."
In other health news:
Alzheimer's drug keeps four patients stable for three years. Reuters reports about a small, preliminary study that found that four Alzheimer's patients treated with an immune system therapy have seen their disease stabilize for at least three years, raising hope that the drug from Baxter International Inc., will prove effective in larger trials.
FDA bans BPA additive from plastic baby bottles, sippy cups. The FDA today banned bisphenol A (BPA) from baby bottles and sippy cups, the Wall Street Journal reports, but stopped short of eliminating the controversial plastic additive altogether. The inside linings of most metal cans on supermarket shelves are still made with a BPA-based resin.
FDA approves second diet drug, Qsymia. The Food and Drug Administration approved a second new diet pill, an appetite suppressant from Vivus, Inc., to be sold under the brand name Qsymia. It follows last month's go-ahead for Arena Pharmaceuticals' Belviq, Reuters reports.
U.S. doctors embracing electronic health records. HealthDay news reports that a majority of U.S. physicians -- some 55 percent -- have now adopted an electronic health record system as part of their routine practice, according to a new national survey.
Photo credit: ksms11 via flickr