Baby Powder Lawsuit Raises Questions About Talc
By Candy Sagon , February 26, 2016 08:58 AM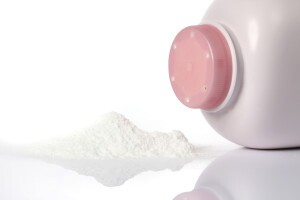 En español | A $72 million jury verdict against Johnson & Johnson for failing to warn consumers of a potential cancer risk from talc in baby and bath powder has raised questions about the safety of using these items, especially for feminine hygiene.
Jurors in St. Louis awarded the money to the family of a woman who said her fatal ovarian cancer was due to using the company's talc-based Baby Powder and Shower-to-Shower powder for decades.
Enter to win a Volvo V60 Cross Country, a national parks vacation for two and more.
In a written statement from Johnson & Johnson, the company said the verdict "goes against decades of sound science proving the safety of talc as a cosmetic ingredient in multiple products," citing research by the U.S. Food and Drug Administration and National Cancer Institute, the Associated Press reported.
Talc, used to make talcum powder, is a mineral that absorbs moisture, which helps to keep skin dry and prevent rashes. In addition to baby powder, it's also used in a wide range of toiletries and cosmetics, including eye shadow and facial powder. Talc in its natural form contains asbestos, a known carcinogen, but all consumer goods containing talc have been free of asbestos since the 1970s, according to the American Cancer Society.
However, studies since the 1980s have suggested a possible increased risk for ovarian cancer if talcum powder is regularly used in the genital area or on underwear, sanitary napkins, diaphragms or condoms. The concern is that talc could reach the ovaries through the vaginal opening and cause inflammation, a risk factor for cancer. It's a theory that is "scientifically plausible" but hasn't yet been proven, one cancer expert told Reuters.
Because research results have been mixed, the cancer society recommends that those concerned about a risk use cornstarch-based powder instead. "There is no evidence at this time linking cornstarch powders with any form of cancer," the group says. Johnson & Johnson also sells a baby powder made with cornstarch.
The company is facing about 1,200 similar suits from women claiming the company knew of the risk from talc and failed to warn consumers. The verdict in the St. Louis case is the first time a jury has awarded damages, Bloomberg Business reported. A 2013 case in North Dakota found that the company's talc-based powder contributed to a woman's ovarian cancer, but no damages were awarded.
Get discounts on prescriptions, health exams, eye care and more — AARP Member Advantages »
For consumers who want to avoid talc, the Environmental Working Group, a consumer advocacy group, has a list of products in which it is used.
Photo: Napat_Polchoke/iStock
Also of Interest

See the AARP home page for deals, savings tips, trivia and more.