Beach Report: Best (and Worst) for Clean Water
By Candy Sagon, June 26, 2013 10:02 AM
Before you pack your swimsuit, check out the latest report card on U.S. beaches with the least and most pollution.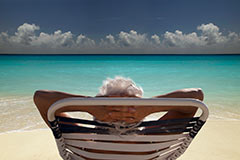 Last year the nation's beaches had more than 20,000 closing and advisory days because of polluted water or threatened contamination, according to the annual report from the Natural Resources Defense Council.

The environmental-advocacy group analyzed water-quality results from tests conducted by the federal government and state beach coordinators at more than 3,000 locations nationwide.

The report, released today, found more than 80 percent of beach closings and advisories were issued because of high bacteria levels in the water. The most common cause was massive storm-water runoff and sewage.

Swimming in contaminated water can make people very sick, the group noted. Children, the elderly, pregnant women and those with a weakened immune system are most at risk for gastrointestinal illness from waterborne bacteria.

The Great Lakes region had the highest violation rate of beach water standards: 10 percent of samples in 2012. The Delmarva region had the lowest rate: 3 percent of samples violated standards. In between were the Gulf Coast (8 percent), Western states (7 percent), New York-New Jersey coast (6 percent), New England (5 percent) and the Southeast (4 percent).

The individual states with the highest violation rates of reported samples last year included Ohio (21 percent) and Wisconsin (14 percent).

The report provides a five-star rating guide to 200 of the nation's popular beaches, evaluating them for water quality plus regular testing and prompt public notification. Thirteen beaches earned a five-star superstar rating, whereas there were 11 repeat offenders for chronically high bacteria counts.

The report also includes an updated, zip code-searchable map of beaches, so you can check for local warnings. Find it at http://nrdc.org/beaches.

This year's top-rated beaches for water quality:

Alabama: Gulf Shores Public Beach, Gulf State Park Pavilion
California: Bolsa Chica State Beach, Newport Beach, San Clemente State Beach
Delaware: Dewey Beach, Rehoboth Beach
Maryland: Ocean City -- Beach 6
Michigan: Bay City State Recreation Area
Minnesota: Park Point Franklin Park -- 13th Street South Beach
New Hampshire: Hampton Beach State Park, Wallis Sands Beach


On the repeat-offender list for sections tested:

California: Avalon Beach, Doheny State Beach, Poche County Beach
Georgia: Kings Ferry Park
Indiana: Jeorse Park Beach
Massachusetts: Cockle Cove Creek
New Jersey: Beachwood Beach West
New York: Ontario Beach Park
Ohio: Euclid Beach State Park, Lakeshore Park, Villa Angela State Park, Edson Creek
Wisconsin: South Shore Beach


Follow these tips for avoiding polluted beaches:

Choose beaches near open waters or away from urban areas, for better water circulation.
Don't swim near pipes that drain storm-water runoff into the ocean.
Avoid swimming for at least 24 hours after heavy rains, which can wash pollution into beach water.
If you suspect you've been exposed to contaminated water, shower with soap and water, disinfect any skin abrasions, rinse your mouth with clean water or mouthwash, dry out your ears, and wash wet swimsuits and towels as soon as possible.


Photo: Cultura/Getty Images



Also of Interest

Join AARP

: Savings, resources and news for your well-being


See the AARP home page for deals, savings tips, trivia and more