Buying Arthritis Supplements Online? A Warning
By Candy Sagon , October 01, 2013 08:00 AM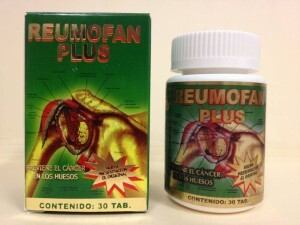 Buying dietary supplements online is easy and popular, but using Reumofan, a Mexican product marketed online to relieve arthritis and joint pain, can cause dangerous side effects, including liver injury, internal bleeding, stroke and death, the government warns.
The Food and Drug Administration has been issuing warnings since 2012 that this so-called "natural" supplement actually contains three powerful prescription drug ingredients, including a corticosteroid that can affect blood sugar levels and impair the body's ability to fight off infection, and a nonsteroidal anti-inflammatory drug that can increase the risk of stroke and intestinal bleeding.
A recent investigation by USA Today found that "dozens of Reumofan users have suffered serious and sometimes life-threatening health effects after taking the pills, including liver injury, strokes and severe episodes of bleeding, according to federal records obtained under the Freedom of Information Act. Three reports involve deaths, though the full toll of those injured will never be known because most adverse events involving supplements and drugs are never reported to the FDA."
Among the deaths, the newspaper reported, were those of an 83-year-old woman and her husband, who died of infection and colitis. Both had been taking Reumofan Plus, which their doctor believed had suppressed their immune systems and contributed to their deaths.
Reumofan products, including Reumofan Plus and Reumofan Plus Premium, are supposedly made by a company called Riger Natural in Mexico, but reporters who searched corporation records and were sent to track down the company offices in Mexico discovered the listed addresses were fake "and there's no evidence the company ever had facilities in the locations," according to USA Today.
Mexican health authorities also have been unable to track down the company, the newspaper added.
The number of people using Reumofan is difficult to determine because the product is sold by multiple sellers online, in Mexican border stores, in some U.S. shops and at flea markets, the FDA notes.
Daniel Fabricant, director of the FDA's dietary supplement division, said it's difficult to keep up with shadowy companies selling risky products. "It's pretty easy to open up one website and shut it down the next day. It's kind of like one big game of Whac-A-Mole," he told USA Today.
The FDA does not have the authority to require pre-market testing for supplements, as it does with medications for sale.
The FDA warnings have made Reumofan more difficult to find in the U.S., the newspaper reported, but consumers are still buying it online and by crossing the border into Mexico.
Because the hidden drug ingredients in Reumofan Plus and Reumofan Plus Premium may interact with other medications, consumers who have been taking the supplement need to talk with their health care providers, especially if they begin to develop unexplained symptoms. Stopping the drug abruptly may also cause serious rebound effects that in some cases have required hospitalization.
Photo: Courtesy fda.gov